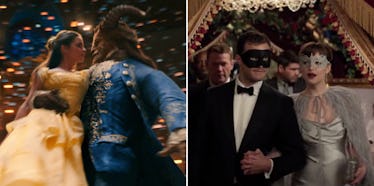 'Beauty And The Beast' Beat Out 'Fifty Shades' For Most-Watched Trailer Ever
Disney/Universal Pictures
It's official... People enjoy live-action fairytales just a wee-bit more than they do romantic dramas.
The proof? The trailer for the upcoming "Beauty and the Beast" movie has officially been viewed more than the "Fifty Shades Darker" trailer.
The trailer for the Disney film, which includes Emma Watson as Belle and Dan Stevens as the Beast, just snagged the record for the most-watched movie trailer EVER.
It is NOT hard to see why...
According to Entertainment Weekly, the exhilarating "Beauty and the Beast" trailer managed to rack up over 127.6 million views in just 24 hours after premiering on November 14.
As for the "Fifty Shades Darker," the trailer for the James Foley-directed film managed to pull in a staggering 114 million views.
Still, that was no match for "Beauty and the Beast."
Not only did the film beat out "Fifty Shades," but it also beat out "Star Wars: The Force Awakens," which garnered 112 million views in one day.
And to think, "Beauty and the Beast" won't be released until March 17, 2017.
I can just picture people literally on the edge of their seats wishing for a sooner release date! If the play count on the trailer doesn't send that exact message, I'm not really sure what does.
The 2-minute-long trailer walks viewers through the famous tale about Belle (Emma Watson), a woman who falls in love with the Beast (Dan Stevens) who is holding her hostage in his castle.
Eventually, she learns that Beast is actually a prince. Sure, this sounds exactly like the childhood movie you knew in the form of a dusty VHS tape -- but the upcoming adaption?
It's ALL anyone can talk about.
Actor Josh Gad, who plays the role of LeFou in the film, spoke to Entertainment Weekly about the ongoing craze over the film, saying,
I will tell you right now that the amount of interest in this film is unlike anything I've ever seen. Look, there's a lot of buzz surrounding "Frozen 2," there's buzz surrounding other things I've been involved with. But, this, there's such curiosity, joy, excitement, and buzz about a film that's two years away still. That's an enormous amount of pressure, actually, but also something that we all take very seriously. Every day we're making this movie, we know what the bar is, and we're trying to match that bar, if not exceed it in some ways. So we're very well aware of that.
It sounds to me like the pressure is most certainly on, Josh.
Numbers don't lie!
Citations: 'Beauty and the Beast' Smashes 'Fifty Shades' Record to Become Most-Watched Trailer of All Time (Complex)