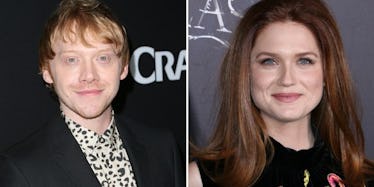 Ginny And Ron Weasley From 'Harry Potter' Had A Reunion And It Was Magical
REX/Shutterstock
It's a Weasley family reunion!
Rupert Grint and Bonnie Wright — better known as Ron and Ginny Weasley — had a magical reunion on Thursday night. Awww, there's nothing like sibling love.
Take a look at the adorable wizard sibs six years after they saved Hogwarts.
The photos were taken at a Los Angeles screening of the upcoming television adaptation of the 2000 crime comedy "Snatch," which Rupert Grint is both starring in and executive producing for Crackle.
It looks like Bonnie Wright showed up to show her support, and of course take a few awesome photos with her on-screen big bro.
And this Weasley family support isn't necessarily a new thing — as we just recently learned, courtesy of Emma Watson, all of the former "Harry Potter" stars still keep in touch and support each other via a group chat.
That's right; Daniel Radcliffe, Emma Watson and the rest of the main cast are constantly in communication with one another even to this day.
Just last week, Emma Watson's old "Harry Potter" co-stars Matthew Lewis and Tom Felton showed up at a screening of her new movie "Beauty and the Beast" to support her, so it's clear the love between the cast still runs strong.
Guess that's what happens when you grow up on a movie set with a bunch of other kids.
And Rupert Grint's going to have a lot of projects for his magical friends to support this year.
After taking a few film roles after the "Harry Potter" saga ending, he's setting his eyes exclusively on television roles for 2017.
Alongside his starring role in "Snatch," he's also lined up to star in the British comedy series "Sick Note," and he'll play a friend of Adolf Hitler in an episode of the historical dramatization series "Urban Myths."
Maybe next time Arthur, Molly, William, Charles, Percy and George can come along, too, for a full family reunion.
Citations: The Weasleys reunited as Rupert Grint is supported by on screen sister Bonnie Wright at Snatch screening (Metro UK)