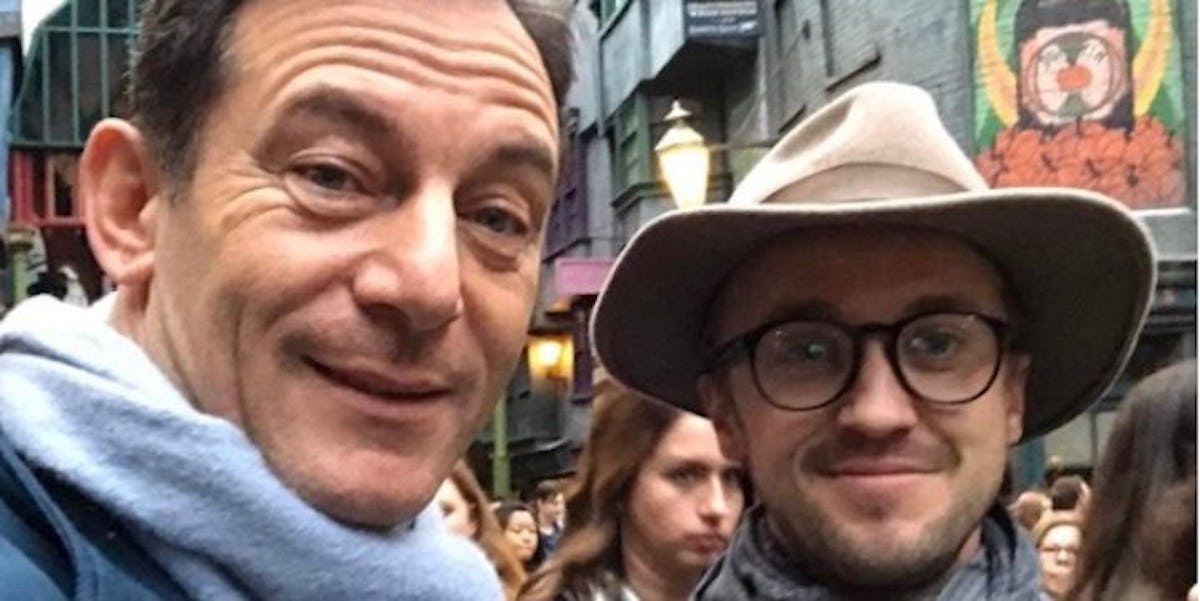 Even JK Rowling Couldn't Handle This 'Harry Potter' Reunion With The Malfoys
Instagram
The wizards of "Harry Potter" are coming together to fight for the rights of the Muggles — even the Death Eaters.
That's right, with the Malfoys (aka actors Jason Isaacs and Tom Felton) in the lead, several "Potter" actors gathered at The Wizarding World of Harry Potter at Universal Orlando Resort in Florida.
(Can you imagine just casually seeing Draco and Lucius at the Wizarding World park?)
The two Malfoys were joined by Neville Longbottom (Matthew Lewis) and Professor Flitwick (Warwick Davis) for a Q&A with fans at the park.
In an Instagram post, Isaacs said the fans inspired him to keep "fighting fascism, embracing diversity and never giving up hope."
Papa Malfoy wrote,
Me and the wizarding blond bombshell reunited and wandering around Universal's #wizardingworldofharrypotter extremely cognito. A welcome escape from the horrors of the world until we answered questions on stage and were reminded what the stories were all about: fighting fascism, embracing diversity and never giving up hope. Suddenly seemed a lot less fantastical. Still, huge love and thanks to all the Potterites who made it a glorious weekend. You're all brilliant - even the tragically unSlytherin. X
Somewhere, Dumbledore is very proud of his Malfoy boys for finally coming to the good side of the fight against Voldemort.
I'm guessing Draco finally got through to his father.
The Malfoys, the professor, Neville and Neville's IRL fiancée, Angela Jones, also took a group photo together.
Isaacs wrote,
Here's the album cover. Now all we have to do is come up with the songs. Titles anyone?
Then Tom Felton posted my personal favorite photo from the reunion.
He captioned the photo,
Love you Longbottom
I can only forgive Tom for that hat and glasses combo because he gave me a picture of Malfoy kissing Neville.
And you know who is fangirling just as hard as anyone else over this reunion?
The queen herself, JK Rowling, who retweeted Jason Isaacs' photo with a few choice emojis.
Admittedly, she did keep her cool a little better than I did, considering my reaction to seeing Jason, Tom and Matt together was just, "AAAHHHH!"
Then again, Jo's been a little busy destroying trolls on Twitter, so that makes sense.
Anyway, it's nice the magic lives on to see another day. Keep up the good fight, Malfoys!
Citations: 'Harry Potter' Reunion (E! News)