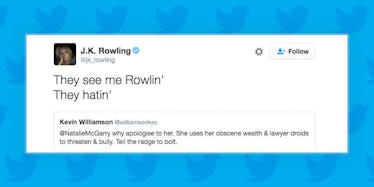 11 Times JK Rowling Shut Down Twitter Trolls With The Perfect Response
If you're a true "Harry Potter" fan, you know July 31 is a very magical day.
Not only is it the birthday of our favorite Boy Who Lived, Harry P, it's also the birthday of the incredible woman who created him, JK Rowling.
And on top of THAT, this year we also have the release of "Harry Potter and the Cursed Child" in script form, aka the play that's the eighth "Harry Potter" story.
SO YEAH, I'm feeling a LOT of emotions right now. I could really use some wisdom from Jo to help calm me down.
And you know what always makes me feel great? Witnessing JK Rowling shut down ignorant people on Twitter.
So in honor of our magical queen's 51st birthday, let's take a look back at her most memorable comebacks on Twitter.
1. Let's start with that time she shut down a fan who said Dumbledore didn't "look gay."
2. Then there was that time she compared a super racist Trump supporter to a Death Eater.
3. And when she said Donald Trump was worse than Lord Voldemort.
4. That time she casually shut down all the racists who were complaining about a black Hermione.
Canon: brown eyes, frizzy hair and very clever. White skin was never specified. Rowling loves black Hermione https://t.co/5fKX4InjTH — J.K. Rowling (@jk_rowling) December 21, 2015
5. And then did it again.
6. And that time she used the POWER OF POETRY to call out all the anonymous online trolls.
7. How about when she destroyed this dude who tried to insult Serena Williams?
8. Or when she tore into someone who tried to compare Jeremy Corbyn, who many blame for Brexit, to Dumbledore.
9. And then when she threw this sick burn at Brexit supporters.
10. Don't forget about this one.
11. And finally, my favorite: When she used that pun we've been waiting to hear for years.
Happy birthday, JK Rowling! May you have 50 more years of putting the haters in their place.