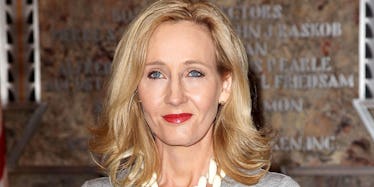 JK Rowling Slams Critics Who Are Upset A Black Actress Is Playing Hermione
REX/Shutterstock
JK Rowling is so not here for ignorant people hating on a black actress playing Hermione Granger.
In the upcoming play written by Rowling, "Harry Potter and the Cursed Child," a grown-up Hermione Granger will be played by Noma Dumezweni, an award-winning English actress who was born in South Africa.
Since the cast photos were released last week, we all got to see the beautiful new Granger-Weasley family.
Hermione's race was never explicitly described in the series. But even if it had been, you really shouldn't have a problem with this unless you're racist.
Unfortunately, racist "Harry Potter" fans do exist, and they were harassing JK Rowling about the casting choice, insisting Hermione had to be white.
Luckily, Queen Jo, flawless as ever, had the perfect response to shut down the critics, calling them out as "racists."
In an interview with The Observer, she said,
I had a bunch of racists telling me that because Hermione 'turned white' – that is, lost color from her face after a shock – that she must be a white woman, which I have a great deal of difficulty with. But I decided not to get too agitated about it and simply state quite firmly that Hermione can be a black woman with my absolute blessing and enthusiasm... Noma was chosen because she was the best actress for the job.
She also already voiced her support of the casting back in December when it was announced.
Canon: brown eyes, frizzy hair and very clever. White skin was never specified. Rowling loves black Hermione https://t.co/5fKX4InjTH — J.K. Rowling (@jk_rowling) December 21, 2015
Hear that people? This is what the original creator wants. So keep all that racist hate bottled up inside and just sit back, relax and await the "Cursed Child" leaks.
The story follows Harry and his friends 19 years after the Battle of Hogwarts, focusing on the relationship between him and his son, Albus Severus Potter.
The play opens in previews tomorrow, June 7, at the Palace Theatre in London. *muffled screams*
Citations: J.K. Rowling Slams "Racists" Unhappy Black Actress Will Play Hermione in Harry Potter Play (E! News), JK Rowling tells of anger at attacks on casting of black Hermione (The Guardian)