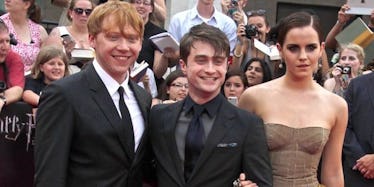 The 'Harry Potter' Stars Have A Group Chat And Fans Are Losing Their Minds
REX/Shutterstock
The "Harry Potter" movies may have come to an end more than five years ago (sure there's "Fantastic Beasts" and "Cursed Child" and all that stuff, but you know what I mean), but it sounds like the stars are still super close.
How do I know this? Because Emma Watson just revealed they're all in a group chat together!
Yep, apparently Harry, Ron, Hermione and the rest of the wizards and witches traded in their wands for iPhones. You just know there's a "Harry Potter" GIF every other text in there.
If Emma Watson doesn't send this one every time Daniel Radcliffe brings up whatever play or indie film he's working on, I'd be so disappointed in her.
And if I were Rupert Grint, I'd definitely make full use of this bad boy for those times when you wake up from a nap to 40 missed texts.
Emma Watson spilled the beans about the magical group chat in a recent interview with Entertainment Tonight, saying she used their WhatsApp convo to invite all of the main cast from the "Harry Potter" saga to come to screenings of her upcoming "Beauty and the Beast" adaptation.
We actually have a group WhatsApp, which I invited everyone really from the main cast from 'Harry Potter' to come to the screenings. And Matt Lewis and Tom Felton came to the screening we just had in L.A. It's kind of like 'Pokémon' — I'm trying to catch them all right now. I've got Bonnie [Wright] and Dan [Radcliffe] left. We're all spread all over the globe, so it's a case of trying to get people in the right places, but I feel very supported by my old costars.
Check out Watson's full explanation below.
This reminds me of when we found out that all of the "Parks and Recreation" cast has a hilarious group text going, but I'd imagine the "Harry Potter" one is much more substantial.
I mean, these kids literally grew up together on those sets.
I'm hoping someone tweets out a screenshot or something so we can see exactly who's in there and what the vibe is like.
Citations: The cast of 'Harry Potter' have a WhatsApp group and it sounds simply magical (Mashable)