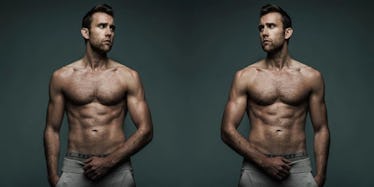 Neville Longbottom Just Reminded Us All How Hot He Is With This Photo
Neville Longbottom — ahem, Matthew Lewis — just granted us all a beautiful gift: himself.
Lewis, who played Longbottom in the "Harry Potter" movies, recently posted an outtake from his famed Attitude photo shoot to Instagram.
For those not in the loop, the once-awkward teen made headlines earlier this year when he showcased his newfound hotness in a now-famous spread for the magazine.
The never-before-seen outtake from the shoot was originally posted to Instagram by photographer Joseph Sinclair and later reposted by Lewis, to the delight of his 322,000 devoted followers.
No magic here -- just pure hotness.
Check out the photo below.
Citations: Neville Longbottoms ripped abs deserve 10 glorious points to Gryffindor (Mashable)