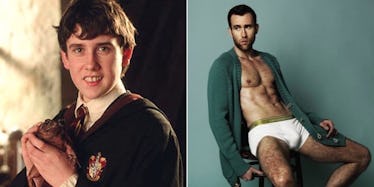 Neville Longbottom Posed Half Nude And JK Rowling Had The Best Response
Warner Bros. Pictures/Instagram
After years of playing gawky Hogwarts student Neville Longbottom, actor Matthew Lewis is proud of his near-perfect body.
He's the most recent cover model for Attitude, a gay lifestyle magazine.
The 25-year-old Brit has a 10-page feature where he elaborates on success and committing to a fit lifestyle.
In order to achieve the perfect body, Lewis allegedly even gave up alcoholic drinks.
Although the actor reportedly doesn't identify as homosexual, he caused waves during an oiled man-on-man dance scene in the BBC series "Bluestone 42" last year.
He's been a fan favorite ever since.
In his interview, Lewis remembered the headlines about his transition from preteen nerd to full-on star material when the "Potter" films wrapped in 2011.
He said,
I was excited I guess to go on the red carpet on the release of the last film and be me, and not to have to have the fat suit under my t-shirt. It was quite an exciting buzz... I was 21, I was like 'yeah, this'll be cool!' It was never meant to be a 'hey everyone, look at me!' but it was nice to be able to go and be myself.
It's taken years of dedication to get Lewis' body looking like this.
So he's proud to show it off.
With a sense of humor firmly intact, Lewis posted this image from the set, saying, "Bit cold in the studio today."
The only person more surprised than fans was JK Rowling.
.@Mattdavelewis Not as bad as watching Dan in Equus, but close. Warn me next time, for God's sake. https://t.co/r8EUd1GKqT — J.K. Rowling (@jk_rowling) May 21, 2015
.@Mattdavelewis I will always support you whatever you want to do, Matthew. Now go put some clothes on. — J.K. Rowling (@jk_rowling) May 21, 2015
.@jasonsfolly @Mattdavelewis I wouldn't know. I hastily averted my eyes and read an article on Political Correctness to get over the shock. — J.K. Rowling (@jk_rowling) May 21, 2015
Citations: Youll Neville believe it! Newly-ripped Harry Potter star Matthew Lewis shows his impressive six pack as he strips down to his smalls for smouldering shoot (Daily Mail)