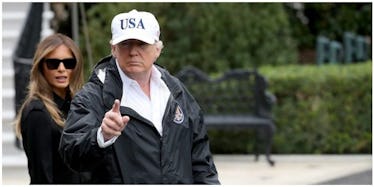 These Donald Trump Jokes At The 2017 Emmys Are Too, Too Perfect
Win McNamee/Getty Images
Stephen Colbert promised that no jokes would go unsaid while he hosted the 2017 Emmys, and he delivered. Of course, he couldn't help but take a few jabs at our current president. Stephen Colbert's jokes about Donald Trump were so, so perfect.
The host did not hold anything back, and the audience ate it up. Colbert mentioned previous tweets from Trump, included a clip from a debate with Hillary Clinton, and there was a cameo by someone very surprising... Sean Spicer.
On CBS This Morning the Friday, Sept. 15, before the awards show, Colbert noted that it would be obtuse to not mention Trump during the Emmys. The host pointed out that despite all the huge TV shows being honored at the Emmys, the biggest TV star of the year was Trump, who was best known for hosting the reality competition series The Apprentice before his election as president.
The biggest TV star of this year is undoubtedly Donald Trump. No one's close. You know, how like the Bible outsells every book of all time. Donald Trump is the Bible of the 2016-2017 television season. If you don't include Donald Trump as a TV star this year, you're lying.
Colbert went on to reveal his initial plan for his opening monologue included much more nudity than we actually saw. He told the morning show he got a fake tan and was planning to get completely naked on the stage, but CBS wasn't totally comfortable with that plan.
Colbert's one-liners were honestly next level. He knew it, too. He boldly exclaimed, "Can't wait to read the tweets!"
Colbert touched on all the hot topics using comedy and the best TV references. "Look on the bright side Handmaids, at least your healthcare is free," was one of the best. Trump is obviously one of the most talked about people right now. Colbert said,
You can't deny every show is influenced by Donald Trump in some way. All the late night shows, obviously, House of Cards, the new season of American Horror Story, and of course next year's Latin Grammys hosted by sheriff Joe Arpaio. Muy caliente!
Colbert continued,
I thought you people loved morally compromised anti-heroes. You like Walter White? He's just Walter Much Whiter.
These days, no one forgets anything. Mostly because it's always captured on video or um, posted on Twitter totally on purpose. If there's one thing we all know about Colbert, he does his research before a live show. Colbert brought Trump's tweets about the 2012 Emmys into play, and they are outrageous. Remember when our President was a reality TV star? Ha, yeah... good stuff. Anyways, in 2012 he did not win an Emmy and took to Twitter to complain about it:
The Emmys were horrendous…the absolute worst show!
That seems like a really general statement, right? Don't worry, he elaborated,
The Emmys are all politics, that's why, despite nominations, The Apprentice never won–even though it should have many times over.
Toooootally.
If this wasn't enough, Trump tweeted AGAIN in 2014 after losing in his category at the Emmys. This time he targeted then-host, Seth Myers.
That Seth Meyers is hosting the Emmy Awards is a total joke. He is very awkward with almost no talent. Marbles in his mouth!
After Colbert mentioned this tweet, the camera then panned over to Seth Myers who was in the audience. He opened his mouth to speak and a bunch of marbles fell out. It was hysterical. Colbert pointed out,
Why didn't you people give Donald Trump an Emmy? If he had won an Emmy, he never would have run for president!
He continued,
Unlike the winner of the presidency, Emmy's go to the popular vote.
Colbert is the Emmy host we need right now. The Trump jabs have been laced through the entire show. Sean Spicer basically broke the internet with his surprise appearance.
Sean Spicer at the Emmys was so unexpected, and the crowd went wild. Of course, the Emmys needed to have a shock value, and it's no secret that Stephen Colbert has been a huge Trump critic since the beginning, so we knew at least a few political jokes would go down. But I don't think anyone expected to see Sean Spicer make an appearance — behind his infamous podium, no less.
Spicer has been trying to shake off the controversy that has been surrounding him by appearing on various late night shows, like Jimmy Kimmel Live — which have not let him off so easy. Probably the best reaction to Spicer's appearance at the Emmys came from Veep's Anna Chlumsky. Her reaction became GIF'd faster than any cat playing a piano I've every seen.
While jokes about Trump were 100 percent expected, no one knew they would be so topical and hilarious. There are definitely moments that will live on for a very, very long time.