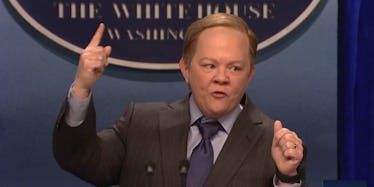 Melissa McCarthy's Reaction To Sean Spicer At The 2017 Emmys Was Perfection
NBC/YouTube
One of the biggest surprises at the 2017 Emmy Awards came right away, when host Stephen Colbert welcomed out former Trump press secretary Sean Spicer to the stage during his monologue. In the midst of the shock, all eyes turned to Melissa McCarthy, to see how the comedian would respond to the politician she famously played all this year on Saturday Night Live. And sure enough, Melissa McCarthy's reaction to Sean Spicer at the Emmys spoke for everyone watching.
After a particularly political opening song and monologue, in which he called out Donald Trump for his bizarre Emmys obsession, Stephen Colbert brought out Sean Spicer in the mobile podium that Melissa McCarthy famously used throughout the year for her Spicer impression on SNL. During his quick appearance, Spicer joked about his first snafu after he had signed on as press secretary, when he was criticized for exaggerating the turnout numbers for Trump's inauguration. But the really funny part came when the camera panned over to Melissa McCarthy's puzzled, smiling face in the audience. McCarthy, who impersonated Spicer on SNL all year, was clearly putting on a smile while also appearing a bit uneasy about the whole bit... which like, weren't we all feeling that? It's a little too soon to start laughing about and normalizing Sean Spicer's history of lying to the American people. Check out McCarthy's reaction to the surprising moment below.
Melissa McCarthy first surprised Saturday Night Live viewers back at the beginning of 2017 when she appeared on the sketch show to play a furious, screaming version of Sean Spicer. Along with Alec Baldwin who joined the season to play Trump, McCarthy continued to recur throughout the season as Spicer, getting more angry and brutal in her portrayals. Just a few months back, Trump surprised the world by firing Sean Spicer as his press secretary. After that, there were rumors Spicer would leverage his quasi-celebrity status into TV work on Dancing with the Stars, which turned out to not be true. But although he didn't slide on his dancing shoes for the TV, he clearly did get his time in the limelight during the Emmys this year.
McCarthy wasn't the only person whose face immediately became a meme following Spicer's surprise appearance. Veep star Anna Chlumsky also captured the Internet's attention when the Emmy cameras captured her hilariously over-the-top surprised face reaction to Spicer's appearance.
Of course, Sean Spicer's appearance and Melissa McCarthy's reaction to it were such buzzy moments thanks to the breakout year Saturday Night Live had from 2016-2017, clearly bolstered by the surprising, unexpected political climate that came with Donald Trump's election to the presidency. And the Television Academy clearly took notice of this landmark year for the long-running sketch series. Saturday Night Live went on to win all of the major categories it was nominated for on Sunday night, including a trophy for Kate McKinnon for Outstanding Supporting Actress in a Comedy Series, an award for Alec Baldwin for Outstanding Supporting Actor in a Comedy Series, and finally, big win-win for Outstanding Variety Sketch Series.
And along with all the wins from the night, Saturday Night Live was also kind enough to give us one of the funniest moments of the whole ceremony with Melissa McCarthy's reaction to Sean Spicer's surprise, podium-riding entrance. But now that that moment is over, I'm just hoping we won't be seeing Sean Spicer anymore in mainstream media. I mean... he doesn't have a job anymore. We don't need to be bringing him out at these events. There are more important (and more entertaining) things to focus on. Like Melissa McCarthy!