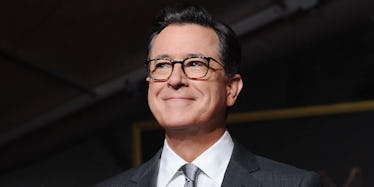 Stephen Colbert's Opening Song At The 2017 Emmys Was The Perfect Start
Getty
Stephen Colbert is no stranger to giving audiences a gut-busting and incredibly timely monologue, but he upped the ante to a hilarious degree to kick off Sunday night's Emmy Awards. In his first year ever hosting the biggest awards show for television stars, Colbert started off the night with the flair and humor fans of his nightly talk show have come to expect. Stephen Colbert's opening song at the Emmys is sure to be one to go down in the awards show's history.
In a chipper-sounding song weaving in all the big TV shows of the years, Colbert was also, as usual, on the cutting edge of the political climate. He sang about TV as a distraction from the horrific events of the real world, pointing at climate change, allegations of Trump's relations with Putin, and the resurgence of Nazis. After the big song, Colbert joked about Trump again, pointing out that if anybody has time to watch all the new TV shows this year, apparently it's him. He then joked, "Look forward to the tweets." But he didn't let up there: Colbert continued to call out Trump by bringing up the president's bizarre obsession with the Emmys in years past, including tweets he sent out criticizing past host Seth Meyers and video from his debates with Hilary Clinton in which he was still hung up on not winning an Emmy for his reality series The Apprentice. Check out video of Colbert's opening monologue below:
Before the big night, Stephen Colbert teased bits and pieces of how he'd open the show in interviews with various talk shows. Of course, most people were wondering how political Colbert would get with his monologue — on this nightly program The Late Show with Stephen Colbert, the longtime talk show host and comedian is known for calling out Donald Trump and his administration's actions and policies. On CBS This Morning the Friday before the awards show, Colbert noted that it would be obtuse to not mention Trump during the Emmys. The host pointed out that despite all the huge TV shows being honored at the Emmys, the biggest TV star of the year was Trump, who was best known for hosting the reality competition series The Apprentice before his election as president.
The biggest TV star of this year is undoubtedly Donald Trump. No one's close. You know, how like the Bible outsells every book of all time. Donald Trump is the Bible of the 2016-2017 television season. If you don't include Donald Trump as a TV star this year, you're lying.
Colbert went on to reveal his initial plan for his opening monologue included much more nudity than we actually saw. He told the morning show he got a fake tan and was planning to get completely naked on the stage, but CBS wasn't totally comfortable with that plan. Oh well... Colbert's monologue definitely went well enough where he didn't need the nudity anyway.
Not only is Colbert hosting the show, but he's also a nominee. His late-night talk show The Late Show with Stephen Colbert is up for three awards: Outstanding Directing for a Variety Series, Outstanding Writing for a Variety Series, and the big one, Outstanding Variety Talk Series. Colbert has already taken home the latter two awards multiple times for his previous Comedy Central satirical talk show The Colbert Report. The Late Show with Stephen Colbert has yet to take home any Emmys since Colbert started helming it at the end of 2015, but with three nominations and a major bump in viewership and ratings for its no-holds-barred coverage of Trump's presidency, it looks like this could be its year.