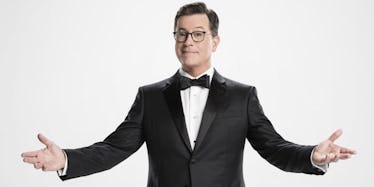 Who Is Stephen Colbert's Wife? 7 Things To Know About Evelyn McGee-Colbert
CBS Photo Archive/Getty Images
With all this talk about Stephen Colbert hosting the 2017 Emmy Awards, it's easy to forget about his commendable late night program, The Late Show With Stephen Colbert, his political prowess, and his great sense of humor. And what about the woman behind the man? Or the woman in front of the man? What I mean to say is, Colbert's wife definitely plays a major part in his rise to success. So, who is Stephen Colbert's wife, Evelyn McGee-Colbert? She's pretty fascinating in her own right.
McGee-Colbert has a very interesting life, including her romantic past with Stephen Colbert. If the couple wasn't cute enough in photos, just wait until you hear about their enchanting love story. Stephen Colbert said he knew Evelyn McGee-Colbert was "the one" right when he first laid eyes her. He first saw her in a theater lobby, and said to himself, "Her. That's your wife. You're going to marry her." Aww. How sweet is that? I guess when you know, you just know. Their romance is one for the ages, and anyone who's a fan of the lovey-dovey stuff definitely should be taking notes. So, let's get to know the other half of this dynamic duo.
1. She Grew Up In South Carolina
Yes, that's where it all began. McGee-Colbert grew up not too far from her future husband in Charleston, and their families apparently knew of each other. However, the pair didn't actually meet until 1990, when they laid eyes on each other at the Spoleto Festival, a performing arts festival in Charleston, and later fell in love.
2. She & Colbert Live In Montclair, New Jersey
Though the family is pretty involved in show business, the pair chose to remain outside of the bustling metropolises of L.A. and New York City, largely to give at least semi-normal lives to their three adorable children, Madeline, Peter, and John.
3. McGee-Colbert Is An Actor
That's right; Stephen is not the only Colbert in the 'biz. McGee-Colbert has done her own thing on camera, just like her hubby has. In 1999, McGee-Colbert got a role on Colbert's Comedy Central show, Strangers with Candy, where she played Chuck's mom, while her husband played Chuck. She also played a small part in The Hobbit: The Desolation of Smaug. Kind of random, I know, but fun fact: Colbert is obsessed with all things Lord of the Rings. OMG, they're cute.
4. She's Been Married Since 1993
The two got married a few years after they first met, and have been together ever since. For those who don't feel like doing math, that's a super long time. Get it, you two.
5. She Didn't Allow Colbert's Character In The House
She definitely tells it like it is. When her husband was starring in The Colbert Report, he played a satirized, right-wing version of himself, who she called "the other guy." While the character was wildly popular for certain TV viewers, McGee-Colbert was not a fan of having him around in real life, and told him to keep his persona away from home.
6. Her Husband Basically Fell In Love With Her At First Sight
As I mentioned before, Colbert really fell hard when he first saw his future wife. When talking to Vulture about the encounter, he said: "I went 'Oh, she just made an entrance. That woman made an entrance. She just pulled focus, she wants me to say hello to her,' and I think 'You will kick yourself for the rest of your life if you do not turn around and say hello to her.'" Man, oh man. This is just too sweet.
7. She's Pretty In Love With Her Husband, Too
At the Met Gala in 2017, McGee gushed about Stephen, saying, "He taught me the importance of being silly." She also called him "sexy." So, they're officially the dream team.
Stephen, good luck hosting the 2017 Emmy Awards, and be good to your wonderful wife. She's a total catch.
This post was originally published on Sept. 6, 2017. It was updated on Aug. 14, 2019.