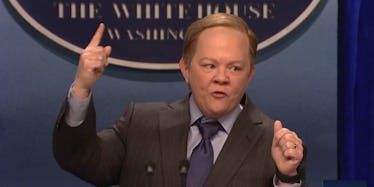 Audience Reactions To Sean Spicer At The 2017 Emmys Are Literally All Of Us
NBC/YouTube
OK, Emmys fans. If there's one thing we can ~almost~ always count on, it's that the Emmys opening monologues are the perfect way to set the tone for a hilarious, fun evening, and this year is no exception. It's no surprise that we all expected this year's host, Stephen Colbert, to deliver one hell of a monologue and have us cracking up, but there is no way anybody expected him to have SEAN SPICER come out of nowhere at the Emmys on a mobile podium. If there's one way to catch everyone's attention, this was definitely it.
That's right, you read that correctly. Donald Trump's former White House Press Secretary, Sean Spicer, came flying out from backstage on a mobile podium during Colbert's opening segment. Obviously, it's been a very tense year in our nation's political arena, so it's totally out of character and unexpected for Spicer — who has typically presented himself to the media as a stern, Trump supporting, no bull sh*t kinda guy — to mock himself in front of millions of viewers.
The former senior White House official rolled out toward the end of Colbert's opening after the host claimed there was no way for him to know how many people were currently watching the broadcast. In a joke referencing his statements earlier this year (you know, when he famously and angrily exaggerated the size of his former boss's inaugural address crowd saying it, "was the largest audience to ever witness an inauguration — period — both in person and around the globe"), Spicer claimed that this is the "most watched Emmys both in person and around the globe."
Obviously, everyone in the audience was shook by the surprise appearance; perhaps no one was as visibly surprised to see Spicer as Veep star, Anna Chlumsky, though, whose reaction is literally all of us watching at home.
I mean, just look at her. The actress' face says everything we are thinking. I can only hope she was turning to look at Julia Louis-Dreyfus, who — in my mind — is her BFF.
Naturally, Twitter erupted during Spicer's segment. Some people were relieved to see the former press secretary mocking himself; on the other hand, however, a great majority of people were not so quick to let him off the hook for supporting Trump during his campaign and for vehemently defending the President's deplorable actions earlier this year. Funny or not, Spicer's appearance — most likely an attempt to showcase civility and unity — normalizes his actions, and few people are here for it.
While the rest of the audience's reactions echoed Anna's, the only other star worth paying attention to in this case is Melissa McCarthy, who won an Emmy earlier this evening for Outstanding Guest Actress in a Comedy Series for her work on Saturday Night Live (most likely for impersonating Spicer and inventing mobile podiums). As interesting as Spicer's part was, I gotta say I'd still rather see Melissa McCarthy up there chewing gum in heels and ramming into things with a podium.
As far as memorable moments in Emmys history go, this one has got to take the cake. This isn't Spicer's first rendezvous with a late night comedy host, though. Earlier this week, the former White House employee was a guest on Jimmy Kimmel Live where the host asked him about some famous moments from recent pop culture history, including his exaggeration of the inauguration crowd size, Trump's tweets, and Melissa McCarthy's impersonation of him, which Spicer called "kind of funny."
All in all, it's better to have Spicer on the Emmys stage than to have him behind a podium in the White House; still, though, his appearances in mainstream media represent an acceptance of his beliefs that many viewers are not ready to comply with. It will certainly be interesting to see if Spicer turns up on more late night shows in the coming months.