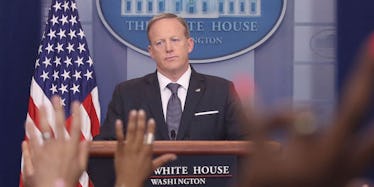 Sean Spicer Just Broke The Internet With His 2017 Emmys Appearance
Mark Wilson/Getty Images
In this day and age, we will take wins where we can get them, and though in the past an awards show might be the last place you found political banter, the Emmys began with a bang. Not only did host Stephen Colbert call out Donald Trump's tweets and show an election debate clip where Hillary Clinton touched on Trump's Emmys loss, but Sean Spicer even showed up -- podium and all. Not only was the audience shocked to see Spicer's appearance, but tweets about Sean Spicer at the 2017 Emmys are officially taking over the internet.
Of course the Emmys needed to have some shock value, and it's no secret that Colbert has been a huge Trump critic since the beginning, so we knew at least a few political jokes would go down. But I don't think anyone expected to see Spicer make an appearance -- behind his infamous podium no less. We saw Anna Chlumsky's extreme face of shock live in the audience, but Twitter had its own fun shortly after. Spicer has tried not taking himself so seriously by showing up on late night television shows as a guest, but hosts like Jimmy Kimmel haven't let him off easy.
Sean Spicer joined the 2017 Emmys to make a joke, about the size of the audience. Spicer said,
This is the largest audience to witness the Emmys, period. Both in person and around the world.
This, of course, is a joke making fun of the Trump administration who constantly provided -- and continues to provide -- "alternative facts" on many situations, including the crowd size at the inauguration. The fact that Spicer is deciding to make jokes on the situation now, however, is not sitting well with Twitter.
Among many things Spicer has presented false information about, a few notable mentions include when he claimed, alongside Donald Trump, that there were over 3 million fraudulent voters in the November 2016 presidential election. Making statements about fraudulent voters is harmful for many reasons, including the fact that it shows up as an excuse to make voter ID laws, which end up harming minority groups more than it helps any kind of voter regulation. It's also a widely known fact that voter fraud is not a real issue in the United States.
So yeah, Sean Spicer, America and Twitter really are not here for your jokes. So, kindly step aside.
Anna Chlumsky's reaction quickly turned into a GIF
The Veep actress, who no doubt has seen her fair share of political satire could not contain her reaction after seeing Spicer, well, roll up on stage.
Melissa McCarthy Had More Of A Chill Response
McCarthy absolutely crushed Saturday Night Live with her portrayal of the White House communications director. Even Spicer admitted in his interview with Jimmy Kimmel that he thought it was "kind of funny."
But Twitter Quickly Turned Serious On The Matter
Some critics immediately started pointing out that Spicer shouldn't be celebrated at the awards ceremony. Similar to the reaction of Jimmy Fallon messing with Trump's hair when he was on The Tonight Show. If you recall, critics slammed Fallon for making light of Trump's policies, which have been extremely harmful for a number of minority groups (including Muslim Americans, Hispanic Americans, and more).
Some Were Furious About The "Apology Tour" Sean Spicer Is Currently On
But Some People Were A Little Easier On Spicer
Either way, Sean Spicer is clearly a very touchy subject. After Spicer, um, retired, he was replaced by Anthony Scaramucci, who only lasted in the position for about a week. Now it seems Spicer is "off the hook" from any White House duties, but it's apparent that America and Twitter haven't forgotten his past.