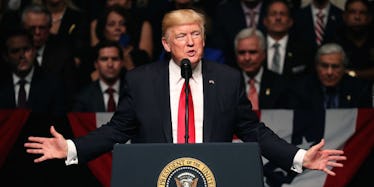 People Are Calling On Trump To Respond To Killing Of Muslim Teen In Virginia
Joe Raedle/Getty Images
Nabra Hassanen, a 17-year-old girl who lived in northern Virginia, was assaulted and found dead on Sunday.
She was with a group of fellow teenagers leaving a 24-hour IHOP around 3 a.m. on Sunday, June 18, when a man in a car got in a dispute with them, according to The Washington Post. The group ran, but Hassanen was left behind.
Remains believed to be hers were found in a pond on Sunday afternoon. A baseball bat was also found, according to NBC Washington.
A 22-year-old man has been charged with murder in the case.
Hassanen was out eating with friends so late because of Ramadan, a Muslim holy month that involves fasting during daytime hours. In fact, when the group of teens ran away, they ran back to their mosque, the All Dulles Area Muslim Society (ADAMS).
Members of ADAMS regularly go to McDonald's or the IHOP for food before restarting the fast for the day, The Washington Post reports. And during the last 10 days of Ramadan, which takes places this week, the mosque has extra prayers at midnight and 2 a.m.
The brutal killing of a teenage girl participating in her religious practices occurred about 30 miles from Washington D.C.
Despite this closeness to the White House, President Donald Trump has yet to comment on the killing, as of Monday afternoon.
On Monday morning, he tweeted about an election in Georgia. On Sunday, he tweeted about being at Camp David and about an approval rating poll.
But the president has not yet spared a tweet for a teenager killed while practicing religious freedom.
Many people on Twitter are asking for Trump to say something about Hassanen.
This is especially pressing because of Trump's rhetoric on Muslim people.
Trump has called for a "ban" for safety reasons on Muslim people entering the United States, painting people who practice the religion as inherently violent and threatening.
His campaign and subsequent election was linked to a dramatic rise in hate crimes and hate groups against Muslims, according to the Southern Poverty Law Center.
A man drove a van into a crowd of people outside of a mosque after midnight prayers early Monday near Finsbury Park in London. A 48-year-old man was arrested.
It was "quite clearly an attack on Muslims," according to Metropolitan Police Commissioner Cressida Dick, ABC News reports.
As of Monday afternoon, however, Trump had not commented on that attack.
Similarly, Trump was publicly silent on a shooting at a mosque in Quebec City earlier this year.
This is a noted difference from how he reacts to other attacks not committed against the Muslim community. In those cases, he is quick to send a tweet or say something publicly, sometimes even before full information is available.
We are still waiting to see if the president will react to this weekend's attacks.