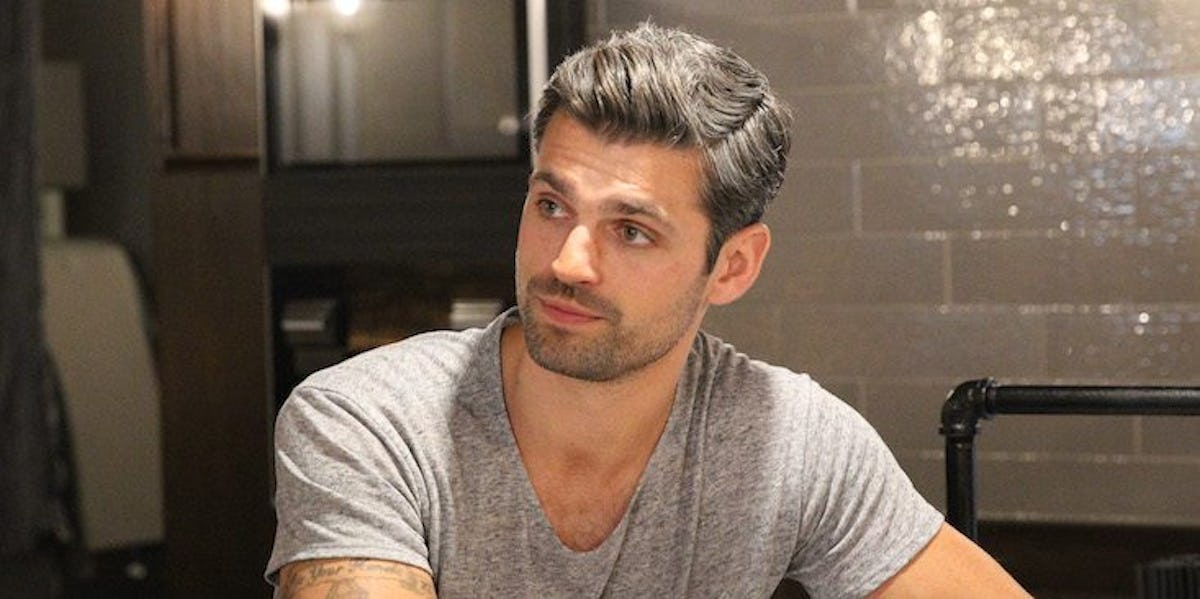 Did Peter Turn Down 'The Bachelor'? His Latest Instagram Gives Us An Answer
ABC/George Burns
The Bachelor is returning in Jan. 2018, but not with Peter Kraus. I've been legit so upset all day. WHY IS THIS HAPPENING?! Instead of my silver fox, ABC had to go back all the way to 2012 contestant, Arie Luyendyk Jr., for the new Bachelor. The choice seemed super random which made me wonder: Did Peter turn down The Bachelor? But, but, but why would anyone do that? The ultimate chance to find love and travel the world? Who would turn down The Bachelor?! Apparently, Peter Kraus.
According to People, Bachelor producers were freaking out and scrambling to try and name someone as the next suitor. They repeatedly asked Peter to be the next Bachelor, but he said no multiple times. The source told People,
They are in a full-blown panic mode. Peter was honestly never their first choice; they're still mad at him because of the whole Rachel situation. But they knew he's who the fans wanted. And the fact that they went to Peter even after they'd initially said they wouldn't? That let Peter know he had a ton of power going into this situation.
Reportedly, Peter angered Rachel Lindsay and the producers when he refused to propose at the end of her season of The Bachelorette. He was trying to build a healthy relationship and needed time to develop those feelings — crazy, right? However, six weeks until an engagement is kind of the whole point of the show. Peter, Rachel, and other contestants even mentioned multiple times on the show that the process didn't work for him.
So, it looks like Peter is not the next Bachelor because he chose not to be. Sigh.
He may have told fans about the decision before the official announcement. On Sept. 6, one day before Arie was announced as The Bachelor, Peter tweeted,
Never let fear hold you back. Lesson learned.
This seems very telling because Peter blamed fear for not being able to propose to Rachel, and the producers will obviously not let him forget that. Even the franchise creator, Mike Fleiss, tweeted about not wanting a Bachelor who "isn't ready to settle down." Savage.
First of all, maybe Rachel just wasn't the one for him. You know, he's never met me before. *Wink, wink* He did admit during an interview with Life & Style that he does love Rachel... he's just not in love with her. He said,
I have love for her, for sure. She and I went through a lot. It's a once-in-a-lifetime experience.
He continued to explain that he's not "in love with her ... [but] I'll always have love for her, there's no doubt about that." That's sweet. Peter really does seem like a nice guy. He posted a kind message on Instagram Sept. 7, after Arie was announced as the new Bachelor.
It is mysterious when he says "showed me a glimpse of a life I never once dreamed." Yes, he could be talking about his time on Rachel's season of The Bachelorette. However, I think he could also be speaking about the opportunity to be The Bachelor. He also said that ABC "saw something" in him, but he was held back. Once again, it sounds like he's referring to his chance at being The Bachelor.
ABC, you saw something in me, but something held me back. You treated me with such love and kindness and showed me glimpses of a life I never once dreamed that I could have. I will be forever humbled and grateful and will always look back at these last 6 months with an ear to ear smile, knowing that this has truly been a very special life indeed.
Relating to his cryptic tweet, Peter mentioned letting fear get the best of him. He continued,
When you let uncertainty or fear guide your decisions, you risk missing out on what could potentially be the greatest opportunity of a life time. So live dangerously, live without the fear of the unknown, and continue to live and love with a heart that is truly open to anything.
I think Peter would have been a great Bachelor, but we will have to wait and see what Arie brings. Being The Bachelor wasn't right for Peter right now, but I wish him the best of luck and hope to see more shirtless pics soon.