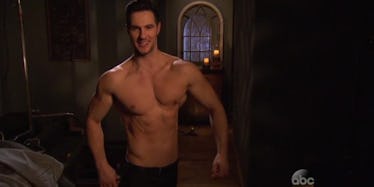 Quotes From Daniel On 'Bachelor In Paradise' That Prove He's All About Drama
ABC/YouTube
Everyone's favorite Canadian, Daniel, has returned to Bachelor In Paradise. He's still... Daniel and has already said the most outrageous things. The ladies who didn't have their roses secured flocked to him as their last resort. As always, he delivered as the wild card. Quotes from Daniel on Bachelor in Paradise will honestly live on forever. Let's start with the most romantic of them all,
You can play with my balls all you want.
Wow, what a guy. Honestly, Daniel is no stranger to Bachelor In Paradise or acting like a total jerk on national television. This is his second go-around and I feel like he's the ultimate producer pick. He waltzes in, has no intention of falling in love, says outrageous things, and has killer abs. Unless Daniel is giving roses to Emily and Haley Ferguson (remember the professional twins?), I'm not interested.
You know who is super interested? Forgettable face and overall annoying contestant, Lacey Mark. She's the one who entered Nick Viall's season on a camel with an obvious "humping" joke. Yeah, her. She dyed her hair darker, and it looks super cute. Other than that, I'm not feeling her.
She put all her eggs in Diggy's basket, who ended up falling for low-key the best contestant, Dominique. When Daniel came, Lacey acted like she was waiting for him the whole time. LIES. To that, Daniel said,
So, I get the leftover scraps?
Womp, womp. Daniel also had some more winning lines about love and Paradise.
I already kind of know you so I don't know if we need to spend more time together.
Just in case we weren't sure, he added,
I like sex.
Neat, Daniel. He was unsure about picking Lacey, the woman who is most openly into him.
I don't want to put all my chickens into one egg and let it hatch into... I don't know, a dinosaur?
Oh, Daniel. Why are you like this? Some people are legit loving the ride.
Daniel does add a little something-something to Paradise. What will he do next? I honestly have no idea. Stay tuned for more Canadian antics.