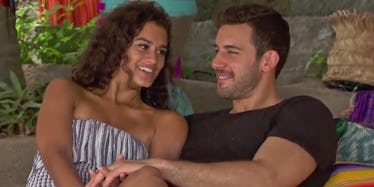 Taylor & Derek Drama On 'Bachelor In Paradise' Puts The Only Legit Couple In Jeopardy
ABC/YouTube
Well, Bachelor in Paradise fans, we're three weeks into the season and, TBH, paradise has been pretty tame so far. Aside from production being shut down for a while and the whole Dean/Kristina/Danielle love triangle, we haven't seen too much relationship drama in these first few episodes. That all changed in the blink of an eye, though, when Taylor and Derek got in a HUGE fight that made them question how perfect for each other they really are. From the start, these two have seemed like paradise's perfect pair, but Taylor and Derek's fight on Bachelor in Paradise changed everything for them and for us. Now I'm not even sure I have faith in the entire Bachelor system, which, until today, I thought was a surefire matchmaker (LOL).
The drama all started when Taylor and Derek were having a conversation about their relationship and Derek said "F*ck you" to Taylor." The fight was so bad that Taylor broke down into tears and flat out said her relationship with Derek was over; she even told Dominique she might not accept his rose if he offered it to her during the ceremony.
Derek was quick to tell Taylor he was joking after he said "F*ck you," but Taylor was not so quick to accept that as an excuse. In her defense, Derek's language was emotionally abusive and triggering for Taylor, so, joke or not, she deserved an apology.
Eventually, Derek and Taylor talked about the situation and Derek apologized for crossing a line with the way he talked to Taylor. Suddenly, all seemed right in paradise again (honestly their kiss restored my faith in love and in the Bachelor system).
In the end, the rose ceremony was postponed because Matt left early, but I think it's safe to say Taylor will accept Derek's rose when he offers it. Who knows, though, this is BiP, so anything can happen.