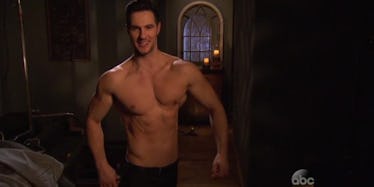 6 Things To Remember About Daniel From 'Bachelor In Paradise'
ABC/YouTube
If there's one thing we love about Bachelor in Paradise, it's how the show seems to effortlessly drum up drama between the contestants. One of my favorite ways the show does this is by bringing back former contestants midway throughout the competition to throw everyone off. Most of the time the person coming back to look for love in paradise is gorgeous, fun, and a real game-changer and this time is no exception... well, kinda. We all remember the, uh, *lovable* Daniel Maguire from JoJo's season of The Bachelorette, right? Well, apparently he wasn't lying when he said he's like a disease that just won't go away, because it looks like he's about to become the *lovable* Daniel from Bachelor in Paradise for the second time. 
That's right, you guys, Daniel is on his way to paradise and I'm certain he's gonna throw a wrench in the current setup because, let's face it, that's the whole point of this game. Who knows what could happen when a new guy is brought onto the island. At the very least, we know he'll be good entertainment. With that being said, there's a lot that you may have forgotten about the hunk from Season 12 of The Bachelorette. Let's take a look at some stuff you should remember about him before he's back in Bachelor nation for the third time.
Daniel is seriously no stranger to Bachelor nation.
The dork with a body of a Greek god has been on Bachelor related shows twice before. Initially, he was on JoJo Fletcher's season of The Bachelorette, then he was on the last season of Bachelor in Paradise. Clearly, he has not yet been successful... but, I guess maybe the third time is the charm?
Prior to Bachelorette fame, Daniel was a model and personal trainer from Vancouver, British Columbia.
The Canadian cutie's body clearly shows that he knows his way around a gym. Too bad the things he says aren't as amazing as his physique.
He's competed in bodybuilding competitions.
TBH I'm not at all surprised with that body.
Daniel's biggest claim to fame is getting drunk and jumping into the pool in only his underwear on night 1 of The Bachelorette Season 12.
Clearly, he's always down for a good time.
Daniel has referred to himself as an "eagle" and has called many of the female contestants on the show "dogs" in the past.
Not exactly my idea of romantic.
He's also ~sarcastically~ said that he swings both ways before.
You know, 50 percent of what you say when you're joking is true, Daniel. Hmmm...
All in all, I know one thing is for sure: I'm sure we're about to get plenty of LOLs and one-liners from Daniel in paradise over the course of the next few weeks. In the meantime, here's a video of his best moments.