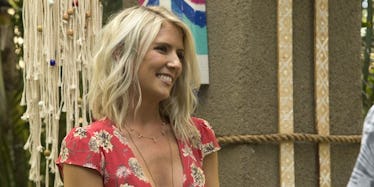 5 Clues That Prove 'Bachelor In Paradise' Couple Danielle & Wells Are Legit Dating
ABC/Paul Hebert
Ever since Tuesday night, fans have been left with major questions about the status of Bachelor in Paradise couple Wells and Danielle's relationship. Are they dating? Social media signs point to yes. The pair -- who we are clearly referring to as Danwell from now on -- has off-the-charts chemistry and a connection that could stand the test of time. Here are a few reasons they might currently be loved-up outside of Paradise.
1. That Kiss...
Duh. The proof is in the epic footage, guys. Danielle Maltby and Wells Adams took things to the next level right before she left Bachelor in Paradise to go be an amazing person and participate in charity work in Kenya. Wells planted a big old smooch on his pal, making us all swoon when he declared, "If anyone deserved to find someone here, it's you." Excuse me, but were we watching BIP or the last five minutes of the best rom-com ever? "Maybe he's been under my nose the whole time," she said. "We'll have some things to talk about when I get back." You're back now, Danielle. Did you guys talk? Which brings us to our next point. 
2. She's All Up On His Social Media
Danielle pops up a ton on Wells' Instas... Isn't that a true sign of modern love? Look. How. Sweet.
3. She Gives Him Plenty of Shoutouts, Too
Quit trying to use Taylor Swift to change the subject, Danielle.
4. This Picture Says A Lot
Carly Waddell even went ahead and posted this telling pic with Evan, Taylor, Derek, and... who else? You guessed it. Perhaps they formed the BIP happy couple club that very moment.
Here's hoping that caption means what we think it does.
5. They Were Friends First
As you probably already know by now, Danielle and Wells were buddies in Nashville before they both ended up in Mexico. Isn't that the secret to the solid foundation of a relationship? Look at further evidence of the cuteness. Adorbs.
#Danwell, we're rooting for you.