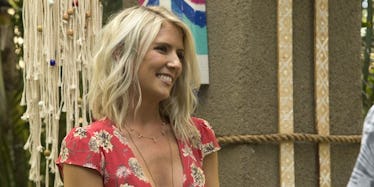 Here's How Danielle M. And Wells Knew Each Other Before They Joined Bachelor Nation
ABC/Paul Hebert
Here we are in Week 2 of Bachelor in Paradise, with all that messy Corinne and DeMario stuff behind us. Fun drama only from here on out! Like fighting over Wells Adams the bartender, even though he's not actually a contestant! Take Danielle Maltby, for example. Not only was she turning on the charm for Wells last week, but we also found out that she and the bartender go way back. So how do Danielle M and Wells know each other?
Well, apparently the two are friends from Nashville. You might recall that Danielle M is the neonatal nurse from Nick Viall's season of The Bachelor, while Wells is from JoJo's season of The Bachelorette (and also Bachelor in Paradise Season 3, where he couldn't bring himself to choose between Ashley I., Jami, and Shushanna). Now, Danielle M. is on Paradise looking for love, but Wells is just there to serve drinks, taking over for longtime bartender Jorge Moreno, who left to go start his own business.
But although Wells technically isn't looking for love, fans are still speculating that his foundation of friendship with Danielle could turn into something more. It's not hard to understand why the two became close, living in the same city, having gone through the same weird reality TV experience.
It definitely seems like Danielle has a bit of a crush on Wells, at least. Back in May, she called Wells one of her "favorite humans" and "the best flannel wearing, beanie headed, taco eating, puppy saving, balderdash playing friend a girl can have" in a gushy Instagram post for his birthday.
Whether or not Wells will return the romantic feelings is, I think, the real question here. It's looking pretty good for the couple — on International Nurse Day, Wells posted his own gushy Instagram, praising Danielle as "the raddest nurse alive" and "a hero." (Also, apparently they were hanging out drunk in a bathtub together, so, yeah.)
So, can you two just date already? This could be Bachelor in Paradise's only chance at a relationship built on actual trust and friendship! Don't let that go to waste, y'all.