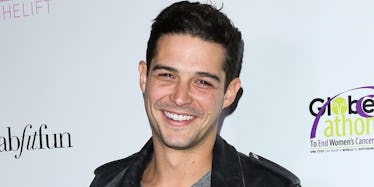 5 Things You Probably Didn't Know About Wells From 'The Bachelorette'
Getty
Wells Adams is officially back in paradise... but not as a contestant this time. The radio DJ has returned for Season 4 of Bachelor in Paradise as the show's new bartender, replacing the usual drink-pourer, Jorge Moreno. As one of the most popular members of Bachelor Nation, fans are obviously excited to see Wells back on the series (even if it was just to pour some drinks and give out some advice). But hey, it's also been a while since we've seen him last! What has Wells been doing since The Bachelorette? Here's a quick look at what the fan favorite has been up to.
1. Getting drunk and watching The Bachelorette
If it wasn't clear before that Wells is very well suited for the position of Bachelor in Paradise bartender, one look at his Facebook live videos seals the deal. After he was sent home from JoJo Fletcher's season of The Bachelorette, Wells continued to watch the episodes and give his drunken thoughts on live video. And what does the BIP bartender do? Get drunk and give advice. It's a perfect fit.
2. Hanging out with a bunch of other Bachelor contestants
Even though he's off the show, Wells still loves to keep up with his fellow Bachelorette and Bachelor contestants. Most recently, he was on a special episode of Family Feud with a bunch of them.
3. Especially Danielle Maltby
Wells is going to have a good friend along with him on this season of Bachelor in Paradise. As his Instagram shows, he's very close with former Bachelor contestant Danielle Maltby. Apparently, it's nothing romantic though, the two are just very close friends and have actually known each other for years. And since Danielle is one of the contestants on this season of Paradise, we'll get to see their friendship up close.
4. Sounding off on the big controversy
Since he was the bartender on the new season and that huge Bachelor in Paradise scandal reportedly arose partially because of alcohol, Wells posted a statement about what on to get the show suspended for a couple of weeks. Wells, who was also a contestant on last season of Paradise, wrote some of the greatest moments of his life occurred on the series, and he felt bad it didn't work out that way for everyone.
5. But mostly, playing with dogs
If there's one thing Wells is clearly most passionate about, it's dogs. His Instagram page is packed with precious pooches, both his own and some posts on behalf of the Humane Society to help get homeless dogs adopted. Let's hope paradise is pet-friendly!