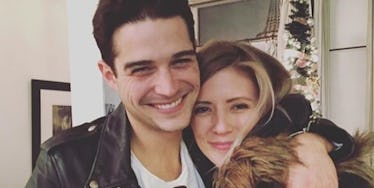 Fans Are Shipping Danielle M. & Wells On 'Bachelor In Paradise' & We're Into It
Instagram
OK, so we're only two episode into the new season of Bachelor in Paradise, but, if you've been keeping up, you know there is already a lot that has gone down. Between scandals, hookups, and surprises, this is already shaping up to be "the most dramatic season ever" (copyright Chris Harrison). Naturally, it's hard not to fixate on the potential couples we will be seeing together over the next few weeks. With that in mind, many fans of Bachelor nation have one major question in mind these days: Are Danielle and Wells dating after Bachelor in Paradise?
So far we've seen plenty of gorgeous past contestants from the Bachelor and the Bachelorette getting to (re)know each other in paradise and, of course, we already have our favorite couples picked out in our minds. Everyone knows Taylor and Derek are adorable together, and nobody can deny Dean and Kristina are perfect for each other, but what about the couples that aren't really ~couples~ yet? You know I'm talking about Danielle M. and Wells.
Apparently, Danielle and Wells, having met each other in Nashville where they both lived, have been friends for years and, although Wells is only in paradise to replace our fave bartender, Jorge, Danielle has made it pretty clear she might be interested in something more than the hottie's drinks this season (get your minds outta the gutter, you garbage people, I'm talkin' about his love!).
Though Wells has said he's not in paradise looking for love, it seems like Danielle might just try to spark up a romance with him anyway. And, of course, people are already shipping these two because, honestly, why wouldn't we? They're constantly posting pics together on Instagram, they're both the same age (not that that matters), and they obviously share a bond having gone through the same reality TV experiences, so really they do seem kinda perfect together.
The only thing that would suck about a Wanielles romance is that would mean Wells couldn't be our next Bachelor, but I'm sure a Bachelor wedding special à la Carly and Evan will ease the pain for all of us.
I guess for now all we can do is wait and see (and tweet). Hopefully, these two will be posting adorable Instagram pics as a couple sooner rather than later.