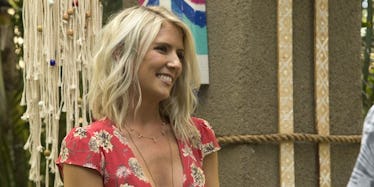 This 'Bachelor In Paradise' Couple Finally Kissed & We're All Cheering
ABC/Paul Hebert
It's time to say goodbye to Danielle Maltby (better known as Danielle M. from Nick Viall's season of The Bachelor) on Bachelor in Paradise. But it's not because Danielle failed to get a rose at the rose ceremony. Instead, Danielle decided to take an opportunity do some charity work in Kenya, with the Lwala Community Alliance. But she definitely went out with a bang, because right before she got in the van to drive away, Danielle and Wells kiss on Bachelor in Paradise.
Sad as Danielle was to leave Paradise, she said it was the best decision for her at the time. She said, "I think it's safe to say the love of my life is not in Paradise. It's not fair, but this is how it's suppose to work out for me." But she said most of all, she was going to miss Wells, the bartender, with whom she has been good friends with for years before they came on the show together.
"Wells is a person I could have seen myself staying in Paradise for," Danielle admitted. "If I had more time, and I had felt those butterflies..."
Wells was sad to see Danielle go, and he offered to walk her out. "Danielle is a gorgeous, beautiful woman. She's so nice, so cute, and funny. She deserves a romantic experience," he said to the camera."
The two hugged goodbye once, hugged goodbye twice, and then Wells said to Danielle, "If anyone deserved to find someone here, it's you. "
And then... he freakin' kissed her! And not just a quick peck on the cheek either — he really, really kissed her. I'm pretty sure there was tongue. Obviously, Twitter freaked.
After the kiss was over, Danielle still got in the car and drove away, seeming pretty shocked by what just happened.
"Wasn't expecting that. I can't believe that just happened. He's a good a kisser, Wells is a good kisser... I'm really glad I ended Paradise with a kiss," Danielle said. "Maybe he's been under my nose this whole time. We'll have some things to talk about when I get back. "
UGH, don't leave us hanging like that, Danielle! Based on her Instagram, she is still in Kenya, helping bring education and medical programs to families and children there.
That sounds pretty important, but can Danielle just come back to the United States already so I can find out if she and Wells are going to live happily ever after?!