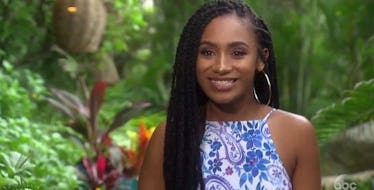 Who Is Dominique On 'Bachelor In Paradise'? Get To Know The Newest Addition
ABC
My favorite part of Bachelor In Paradise has to be the fact that new contestants join the show every week. IT KEEPS ME ON MY TOES, OK? Like, who the hell will show up next? It's a surprise every time! During Tuesday night's episode on Aug 22., Dominique joined the cast. WAIT, WHAT? Curveball. So, who is Dominque on Bachelor In Paradise? Well, Bachelor Nation, I'll refresh your memory.
Dominique Alexis first joined The Bachelor as a contestant vying for Nick Viall's affection (lmao, poor girl). According to Romper, Alexis was 25 years old while on the season and worked as a restaurant server. She unfortunately didn't get much air time and got the boot pretty early on, so fans might not remember her that well. SORRY, DOM.
Dominique is BFF with Taylor Nolan (you know, the girl with all that emotional intelligence). When Dom arrived in Mexico to meet the rest of the BIP cast, Taylor immediately embraced her and then they had GIRL TALK. Taylor basically told her to ask Diggy out, even though Lacey had her eye on him first.
Dom has been on Bachelor In Paradise for like, two seconds, and she's already creating drama. I FREAKING LOVE THIS SHOW.
Dom has clearly been excited to join the cast for a while. The night of her first episode, she posted an Instagram of her on the show with the caption,
Tonight I'm ready to catch a tan and catch a man. Let's go Paradise!! #BachelorinParadise#bachelornation
The girl actually has a pretty cute Instagram. She's stylish AF. Just look at how cute this is! DOM, GIRL, NICK VIALL WAS MISSING OUT.
Welp, I guess we'll have to see what happens with Dom on Bachelor In Paradise this summer. Will she get engaged to Iggy? Will she make Lacey cry? Will she last longer than two weeks? TUNE IN TO FIND OUT.