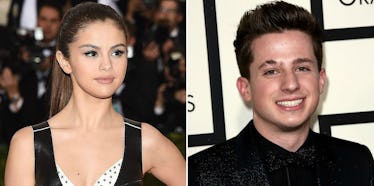 Charlie Puth Apparently Unfollowed Selena Gomez During The Justin Bieber Beef
REX/Shutterstock
Well, it seems like Selena Gomez's ongoing feud with Justin Bieber might have birthed a separate feud.
Here's how it all went down. Justin Bieber had posted a bunch of photos on his Instagram account of him and 17-year-old Sofia Richie hanging out in Japan. As expected, Justin's loyal fans (or "beliebers," rather), went crazy and began hurling insults and threats at both Justin and Sofia.
Fans just could NOT understand why Justin would be spending so much quality time with her. The 22-year-old singer then posted a separate Instagram post warning his fans to stop harassing him and Sofia. In addition to his stern message, he also said that he'd delete his Instagram account if they didn't.
Enter Selena Gomez. The 24-year-old singer decided to call out Justin by commenting on his posts. She told him that he was wrong for the way he was treating his fans and even went as far as to accuse him of cheating on her during their on-and-off relationship.
Since all of this went down, Justin has refused to speak to Selena.
Here's where it gets WEIRD. Somehow, the incredibly talented Charlie Puth is involved in this mess. Seriously.
If you're familiar with Puth, you know that the 24-year-old singer has collaborated on a song called "We Don't Talk Anymore" with Selena Gomez.
In the video above she even calls him one of her "best friends." But there HAS to be something going on between these two because Selena didn't make an appearance in the official music video for the song.
On top of that, Charlie didn't shout Selena out in this tweet regarding the song.
In addition to shunning Selena on Twitter, Charlie Puth also reportedly took subliminal jabs at Justin Bieber in a separate tweet.
Ouch!
Now, we know Selena was rumored to be dating Charlie Puth a while back, but the rumors were never confirmed.
To make this all even more confusing, Teen Vogue reports that Charlie has now unfollowed Selena Gomez on Instagram. Despite this, Selena still follows him on Instagram. He just doesn't follow her...
But why? Was it over the music video? Does this have ANYTHING to do with Justin Bieber? Why, why, why?!
The people want answers and they want them now, Mr. Puth.
We'll just have to wait and see where this goes from here. But one thing's for sure -- it looks like Charlie Puth and Selena Gomez took this whole "we don't talk anymore" thing a little too seriously.
Citations: Charlie Puth Unfollows Selena Gomez on Instagram During Justin Bieber Feud (Teen Vogue)