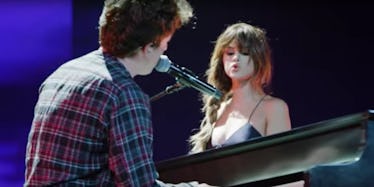 Selena Gomez And Charlie Puth's Live Performance Video Is Straight Fire
YouTube
Regardless of how you feel about Selena Gomez, you can't deny her musical talents.
In a recent video uploaded to YouTube by Charlie Puth, we're given a look at a live performance by Puth and Gomez for their new song "We Don't Talk Anymore."
According to Teen Vogue, Selena Gomez, 23, accompanied Charlie Puth, 24, on stage at the Honda Center in Anaheim, California, to perform their new hit single during Gomez's last performance in the US as part of her Revival Tour.
The video description reads,
Charlie Puth joins Selena Gomez during her REVIVAL Tour for the first official live performance of We Don't Talk Anymore.
Let's just say the world wouldn't be too mad if Charlie and Selena decided to release a joint album!
So far, the video has racked up over 200,000 views in under a day.
Check out the live performance above for a closer look!