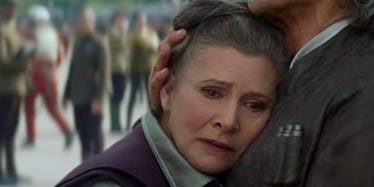 Carrie Fisher's Death Will Make Disney $50 Million From Huge Insurance Claim
Disney
Disney took out the biggest personal accident insurance claim ever in case Carrie Fisher was unable to fulfill her three film contract, according to The Insurance Insider.
They claimed the $50 million on Thursday night.
Fisher, who played the iconic Princess Leia in "Star Wars," died suddenly at the age of 60 on December 27 after suffering cardiac arrest on a flight from London to Los Angeles.
She was wrapping up filming on "Catastrophe."
The actress burst onto the big screen in George Lucas' 1970s "Star Wars" trilogy and recently appeared again in "Star Wars: The Force Awakens."
She will play a large role in "Star Wars: Episode VIII."
Fisher had already completed filming before her death, and it will be released next year.
Yet, Disney will be able to make the insurance claim due to Fisher's contract. She was set to have a starring part in "Star Wars: Episode XI," which is scheduled to be released in 2019.
Now, the movie will face a series of rewrites without her.
Fisher was just 21 when she first appeared in "Star Wars."
She struggled with drug and alcohol addiction as well as bipolar disorder, which may be the reason Disney took out such a large policy on the writer and actress.
Fisher was a powerful voice for others who were also facing addiction and a huge advocate for mental health.
One day after Fisher passed away, her mother and Hollywood icon Debbie Reynolds died due to a stroke.
Reynolds had always feared that she would die before her children. After her passing, her son Todd, Carrie's brother, said,
She wanted to be with Carrie.
Carrie Fisher and Debbie Reynolds will be buried side by side in a joint funeral at the Forest Lawn cemetery in Burbank, California.
Fisher is survived by her brother Todd Fisher and her daughter, actress Billie Lourd.
Citations: Carrie Fisher's death will trigger biggest EVER personal accident insurance claim after Disney took out £41MILLION policy in case she couldn't finish Star Wars films (DailyMail.com)