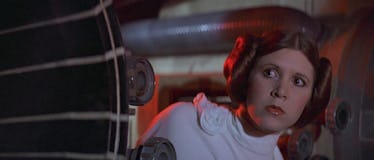 Carrie Fisher, AKA Princess Leia, Has Died And 'Star Wars' Fans Are Devastated
Lucasfilm
Carrie Fisher, who gained international and long-lasting fame for her portrayal of Princess Leia in "Star Wars," has died following a heart attack.
Fisher was only 60 years old.
Fisher suffered a heart attack while on an 11-hour flight from London to Los Angelas on Friday, December 23. She was cared for by the flight staff as well as a doctor and nurse passengers. She had reportedly been in stable condition after being rushed to a hospital upon landing.
"Star Wars" co-star Harrison Ford expressed his dismay and shock shortly after hearing of her heart attack to the Hollywood Reporter,
I'm shocked and saddened to hear the news about my dear friend. Our thoughts are with Carrie, her family and friends.
Unfortunately, today a spokesman released a statement to People announcing her passing on behalf Fisher's daughter, Billie Lourd.
It is with a very deep sadness that Billie Lourd confirms that her beloved mother Carrie Fisher passed away at 8:55 this morning. She was loved by the world and she will be missed profoundly. Our entire family thanks you for your thoughts and prayers.
Sources told TMZ that Fisher never regained consciousness.
Carrie Fisher had just written and released a memoir entitled "The Princess Diarist."
Upon hearing the news, people have been taking to the internet to share their grief over the loss of the beloved actress who had reprised her role as Princess Leia in "The Force Awakens" last year.
The hashtag #RIPprincess is trending on Twitter.
My heart is breaking. May the force be with you, Carrie Fisher. Rest in peace you amazing lady pic.twitter.com/qXdvIHqahw — jodie. ϟ*ೃ (@ImaGleekBaby) December 27, 2016
Aside from acting, Fisher was also known for her incredible wit and talents in writing.
Generations revered Fisher as a role model for accepting ourselves exactly as we are.
You will be deeply missed.
Citations: People, TMZ, Hollywood Reporter