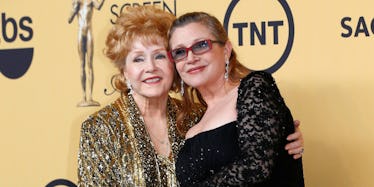 Carrie Fisher And Debbie Reynolds Will Be Buried Side By Side In Joint Funeral
REUTERS
On December 27, actress and writer Carrie Fisher died at the age of 60 due to cardiac arrest.
A single day later on December 28, Carrie's mother Debbie Reynolds died after a fatal stroke at the age of 84.
Carrie Fisher and Debbie Reynolds were nearly inseparable. As mother and daughter, they were so close to each other there was an actual film released in 1990 depicting their unbreakable bond on the silver screen.
The film was based on Carrie Fisher's semi-autobiographical book titled "Postcards from the Edge" in which Fisher elaborated on her life as well as the ups and downs of her relationship with her mom Debbie.
Just days after their deaths, details regarding the mother and daughter's funeral arrangements are making headlines. It turns out that Debbie Reynolds and daughter Carrie Fisher may actually be buried side by side at the same cemetery.
Something tells me they wouldn't have wanted it any other way.
According to TMZ, both Carrie Fisher and Debbie Reynolds will be laid to rest side by side at the Forest Lawn cemetery in Burbank, California after a joint funeral. The funeral is said to be taking place sometime next week.
The report also states the Fisher and Reynolds families had originally visited the Hollywood Forever cemetery located near Paramount Studios.
They reportedly decided to purchase burial plots at Forest Lawn instead since Debbie Reynolds is said to have loved Liberace. They assumed she'd want to "be near him."
TMZ states the main funeral service will be relatively small and will cater to close family members and friends.
As for loyal fans of both Carrie Fisher and Debbie Reynolds, there may be a public memorial in the works to honor them both.
However, due to Carrie's 24-year-old daughter Billie Lourd's mourning of her mother's death, it is unclear when the memorial will take place.
Citations: Debbie Reynolds, Carrie Fisher: They'll Rest Together Forever At Forest Lawn (TMZ)