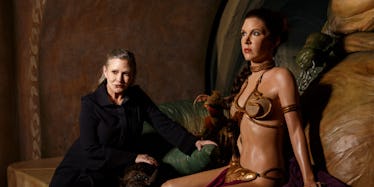 Carrie Fisher Had Her Obituary Planned Out Over 8 Years Ago
REX/Shutterstock
Carrie Fisher has often been a voice for people who have been unheard.
That includes people who struggle with bipolar disorder, substance abuse, alcoholism, body image and women in general.
On Tuesday, December 27, Fisher, Princess Leia, died following a heart attack she suffered on a flight from London to Los Angeles four days prior.
She is survived by her mother, Debbie Reynolds, her brother, Todd Fisher,  her half-sisters Joely Fisher and Tricia Leigh Fisher, her daughter, Billie Lourd, and her dog, Gary.
But the bitingly funny actress and writer will always get the last laugh.
In her 2008 autobiography, "Wishful Drinking," Fisher wrote her own obituary.
On the first day of filming "Star Wars," while wearing her iconic white dress, the film's director, George Lucas, approached her.
She wrote,
...he takes one look at the dress and says, "You can't wear a bra under that dress... because there is no underwear in space." I promise you this is true, and he says it with such conviction too! Like he had been to space and looked around and he didn't see any bras or panties or briefs anywhere.
Fisher expanded on Lucas' idea:
So, what happens if you go to space and you become weightless. So far so good, right? But then your body expands??? But your bra doesn't -- so you get strangled by your own bra.
Honestly, feels like mine is strangling me on Earth, so I get it.
In fact, this is what inspired Fisher's obituary. She wrote,
Now I think that this would make for a fantastic obit -- so I tell my younger friends that no matter how I go, I want it reported that I drowned in moonlight, strangled by my own bra.
Fisher's "Star Wars" co-stars shared their heartache over her death on Twitter.
Harrison Ford, who Fisher admitted she had an affair with while filming "Star Wars" in her new book, "The Princess Diarist," told People:
Carrie was one-of-a-kind… brilliant, original. Funny and emotionally fearless. She lived her life, bravely…My thoughts are with her daughter Billie, her Mother Debbie, her brother Todd, and her many friends. We will all miss her.
In honor of Carrie Fisher, we wish to warn you about brassieres tonight.
Citations: Carrie Fisher Wrote Her Own Obit in 2008: 'I Drowned in Moonlight, Strangled by My Own Bra' (Entertainment Tonight)