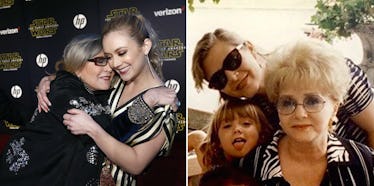 Billie Lourd Breaks Silence On Death Of Mom And Grandma With Bittersweet Post
REUTERS/Instagram
It's been a heartbreaking few days for 24-year-old Billie Lourd.
The "Scream Queens" actress lost both her mother, 60-year-old Carrie Fisher, and her grandmother, 84-year-old Debbie Reynolds, on December 27 and December 28, respectively.
After this awful tragedy, the star took to Instagram to share an old-school photo with her "Abadadba" and "Momby" with a sweet, sincere caption that reads:
Receiving all of your prayers and kind words over the past week has given me strength during a time I thought strength could not exist. There are no words to express how much I will miss my Abadaba and my one and only Momby. Your love and support means the world to me.
On December 23, Fisher was returning to Los Angeles on an 11-hour flight from London when she suffered from cardiac arrest about 15 minutes before the plane had landed.
After her daughter's death on the 27th, Reynolds claimed she "wanted to be with Carrie," before a stroke took her life on the 28th.
People have shown their love for both iconic actresses — Reynolds, who had gained her stardom alongside Gene Kelly in "Singing In The Rain," arguably one of the best (if not the best) musicals of all time, and Fisher, who will always be remembered for her role as Princess Leia in "Star Wars."
While details of the stars' lives have re-emerged over the past several days — Fisher's struggle with drugs and her writing career, Reynolds' under-rated acting capabilities and her husband's affair with Elizabeth Taylor — it was easy for Billie Lourd to get lost in the shuffle of their legacy.
Bruce Bozzi, the young actress' stepdad, made sure she knew she was in his thoughts. He shared a photo from her NYU graduation with a heartfelt caption:
@praisethelourd it's an honor to be your Stepfather. This day, your NYU grad day we had so much fun! Yankee Stadium your mom and I laughed our asses off, as she kept one fantastic line coming after the other — no less when we all fell asleep the night before in the smaller ceremony because it was so boring. Every time Carrie looked at me she said " how are you still awake"! Your grandmother with our sweet Ava was the kindest most loving. So... as Carrie said to me years ago "I'm a good stepmother" I promise I will always be & the strength of these women live so vibrantly in you. I've been lucky enough to see this for a decade! Many decades to come.....heaven just got a shit load more fun!!!! I love you @praisethelourd
We're thinking of you, Billie. Stay strong.
Citations: Billie Lourd Thanks Fans for Prayers Following Mother Carrie Fisher and Grandmother Debbie Reynolds' Death (People)