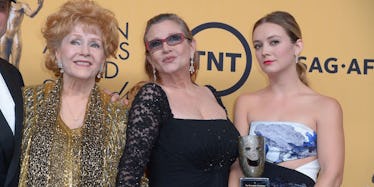 Billie Lourd's Stepdad Wrote Her A Sweet Message After Death Of Mom And Grandma
REX/Shutterstock
If there is one person dealing with the brunt of this past week's news more than anyone else, it's Billie Lourd.
On Tuesday, the "Scream Queens" star lost her mother Carrie Fisher after the "Star Wars" icon went into cardiac arrest.
A day later, Fisher's mother and Lourd's grandmother, Debbie Reynolds, died after suffering a stroke at the age of 84.
Todd Fisher, Carrie's brother and Debbie's son, told reporters his mother died out of grief over Carrie's death.
As memorials and tributes have popped up around the world for these two fallen Hollywood staples, it's easy to forget at the center of everything is Billie, a girl who lost her mother and grandmother in a 48-hour span.
Bruce Bozzi, Lourd's stepdad, made sure to send some positive vibes toward Billie this week.
He posted an incredibly touching letter to Instagram with a photo of Debbie, Billie and Carrie at her NYU graduation.
He captioned the post,
it's an honor to be your Stepfather. This day, your NYU grad day we had so much fun! Yankee Stadium your mom and I laughed our asses off, as she kept one fantastic line coming after the other - no less when we all fell asleep the night before in the smaller ceremony because it was so boring. Every time Carrie looked at me she said  'how are you still awake'!
If you're wondering, here is how Bruce is related to Billie:
Carrie Fisher's first husband was Paul Simon, from Simon & Garfunkel. The two divorced and she went on to marry Bryan Lourd, a prominent Hollywood agent.
The two had Billie, and several years later, Bryan came out as gay (a fact that Fisher, in her memoir "Wishful Drinking," said he blames her for).
The two got divorced and Bryan went on to marry Bruce Bozzi. Fisher never married again.
Bozzi ended the post,
Your grandmother with our sweet Ava was the kindest most loving. So... as Carrie said to me years ago 'I'm a good stepmother' I promise I will always be & the strength of these women live so vibrantly in you. I've been lucky enough to see this for a decade! Many decades to come.....heaven just got a shit load more fun!!!! I love you @praisethelourd xo Bru Thursday 12/29/16
Our thoughts and prayers are with the entire family dealing with this tragedy.
Citations: Billie Lourds Stepfather Writes Emotional Tribute The Strength of These Women Live So Vibrantly in You (E! News)