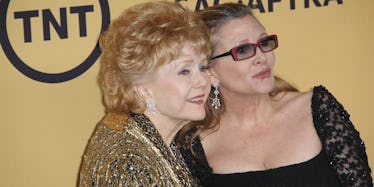 Debbie Reynolds' Last Words Were About Carrie Fisher And They'll Make You Sob
REX/Shutterstock
Debbie Reynolds' last words about her daughter were absolutely heartbreaking.
It's been an unbelievably draining week for the Fisher-Reynolds family, starting on Tuesday when it was announced Carrie Fisher, Princess Leia from the "Star Wars" franchise, had died at the age of 60.
While Hollywood was very much still mourning the loss of this movie icon, the movie industry suffered another major loss: On Wednesday, Carrie Fisher's mother, Debbie Reynolds, died after suffering a stroke.
Carrie's brother, Todd Fisher, who was with Debbie at the time of the stroke, is convinced his mother died because of grief from everything going on with Carrie, saying her death was caused by "heartbreak."
According to Todd, some of Debbie's last words were were,
I miss her so much, I want to be with Carrie.
Hours later, she suffered the stroke and was rushed to the hospital.
Todd went on to tell reporters,
The only good thing about this is that my mom wanted to be with my sister
Debbie Reynolds was universally regarded as one of Hollywood's most beloved icons, garnering a staggering amount of award nominations and wins during her career.
After it was announced that Carrie had died, Debbie posted the following to her Facebook.
Back in May, Fisher briefly spoke with Entertainment Weekly about her mother's deteriorating condition, telling reporters,
It's a lot of times terrifying watching my mother, who's incredibly resilient, coping with certain health issues that she's had. It's the thing that gives her life, but it was also pulling it out of her, because she'd perform and then she'd have to recover. But this is someone who wants to go back and do it now. She became very ill and now she's bouncing back.
This was the second stroke that Reynolds had sustained in the past two years.
She was 84.
Citations: Debbie Reynolds Last Words I Want to Be With Carrie Son Says (Us Weekly)