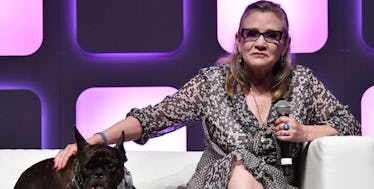 A Carrie Fisher Star Just Mysteriously Appeared On The Hollywood Walk Of Fame
REX/Shutterstock
Carrie Fisher's fans are making sure the "Star Wars" icon has her own semi-permanent place in Hollywood.
Earlier this week it was announced that the writer, actress, feminist and general intergalactic badass had died from cardiac arrest.
While the star, who most recently cameoed in "Star Wars: Episode VIII," has been eulogized and memorialized by seemingly everyone in Hollywood and the internet as a whole, the most touching tribute to the pop culture staple may just be this makeshift memorial on the Hollywood Walk of Fame.
Carrie, for some reason, did not have a star of her own on the world famous strip of sidewalk, so her fans decided to change that.
The star now reads,
CARRIE FISHER MAY THE FORCE BE WITH YOU ALWAYS HOPE
People passing by who were fans of Fisher have added to the memorial, leaving a light saber and honey buns – a reference to Princess Leia's signature hairdo.
It is unclear who started the trend by editing the star.
There are 2,982 stars out there on the Walk of Fame, which sits in the middle of Los Angeles. Fisher's mother and father, Debbie Reynolds and Eddie Fisher, each have their own engraved star on the walk.
For the time being, Carrie's star is allowed to remain on the walk. A producer for the Walk of Fame says they want to give fans a place to mourn, so they will leave the makeshift memorial up for a few days.
The producer went on to say,
We would have loved to consider her... I'm sure she would have been accepted right away.
Because of rules regarding who gets a star, nominees are suggested by third parties and then are required to approve of the nomination. Because of this, it is unclear if Fisher wanted a star at all.
The nomination rule was put in place when Bruce Springsteen famously made it clear he did not want a plaque on the walk.
Fisher passed away on Tuesday after a heart attack she suffered four days prior. She was 60 and is survived by her mother, daughter, brother, half sisters and her dog.
Citations: Fans Make Hollywood Walk of Fame Star for Carrie Fisher (Elle)