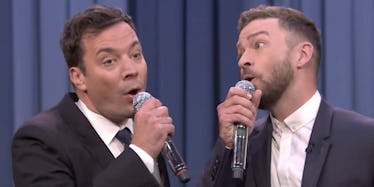 5 Celeb Bromances That Will Make You Want To Crack One Open With The Boys
YouTube
Celebrity bromances are everything.
From hilarious videos to basketball games and more, these guys have me wondering if I can join, too. I get it, I get it, it's boys night *eye roll*. Here are my five favorite bromances happening in Hollywood right now.
1. James Corden And Harry Styles
I cannot watch these two enough on "Carpool Karaoke." They also do a bunch of other hilarious videos where they sing together. Also, the way Harry looks at James is amazing, like he's always ready to start cracking up. I would legit listen to an album by Harry Styles and James Corden.
2. Ryan Reynolds And Jake Gyllenhaal
These two go way back and are in tons of movies together. Their bromance is so real. They tweet about each other, talk about one another during interviews, and have great chemistry on-screen. As previously reported by Elite Daily, their friendship actually got them in trouble on the set of Life when they couldn't stop giggling.
3. Jimmy Fallon And Justin Timberlake
These two are so cute and hilarious together. They recently took their bromance to a whole new level when they rode a tandem bike together. Sigh, all I want in life is to ride a tandem bike with Justin Timberlake!
4. Kanye West And JAY-Z
These two did have a little beef last year. All friends go through rough patches, though. West was always so geeked to be friends with JAY-Z, so hopefully these two can pull through. Fingers crossed for this high-profile bromance.
5. Zac Efron And Dwayne "The Rock" Johnson
This may be my favorite bromance. Mostly because I like looking at both of them shirtless, and now all pictures are like a two-for-one. Since shooting Baywatch, these two seem like they've really bonded. They're both hilarious, hot, and have even kissed once.
Whoa, baby, I don't mind this bromance one bit.
The bromances of Hollywood give me life. More bonding, please!