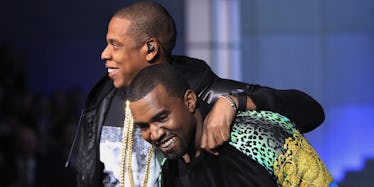 Jay Z Said He Misses The 'Old Kanye' After West's Post-Robbery Rant
REUTERS
If you miss the old Kanye West, you're not alone -- Jay Z does, too.
The 39-year-old rapper used one of the tracks on his most recent album The Life of Pablo to highlight the fact that many of his longtime fans miss the "old" him. He's not wrong.
During the track, titled "I Love Kanye," West raps,
I miss the old Kanye, straight from the Go Kanye Chop up the soul Kanye, set on his goals Kanye I hate the new Kanye, the bad mood Kanye The always rude Kanye, spaz in the news Kanye
It seems like Jay Z might actually miss the "old Kanye" just like the rest of us.
After Kanye West went on a public rant during one of his concerts, he actually pointed the finger at Jay Z and proceeded to tell the audience that Jay hadn't seen him after the robbery against Kim Kardashian took place in Paris.
Kanye said,
Don't call me, after the robbery, and say 'How you feelin'?' You wanna know how I'm feeling? Come by the house. Bring the kids by the house, like we're brothers. Our kids ain't never even played together.
West's shocking comments re-sparked rumors of a lingering beef between the two "Watch the Throne" rappers. Now, Roc-A-Fella co-founder Kareem "Biggs" Burke is coming forward about Jay Z's true feelings on Kanye West.
Rumors swirled that Jay Z wanted little to do with him. Sources even spoke to Page Six, revealing,
Jay can't stand him. He looks at him as this crazy, eccentric motherfucker he can tolerate in small doses. Kanye is a nut job. Everyone knows that.
Now Kareem Burke is coming forward to shed a little light on where things currently stand between Jay and Yeezy. In a recent interview with Page Six, Burke said,
I was shocked to hear what Kanye said onstage. I'm not sure about the relationship at this point. I spoke to Jay [after Kanye's rant] and we're both just like, 'We miss the old Kanye.'
That's right, apparently, Jay Z misses the old 'Ye.
Now, it's no secret that Kanye's been through a lot over the years.
From the passing of his mother Donda West to welcoming two children into his life with wife Kim Kardashian, Kanye's life continues to evolve, which can only mean more stress.
Not to mention, I can't imagine how level-headed I'd be after hearing that my wife was robbed overseas at gunpoint by a couple of masked men while I was performing.
In other words, maybe he really is going through something at the moment.
Burke continued,
[Kanye] is usually really honest. So it sounds like something he's going through right now. He may [say] something like that, and then three weeks later he may be back to, 'That's my brother.'
Look, I don't know what's going on between Kanye and Jay, but I will say that they HAVE to squash the hard feelings and get back to the "Watch the Throne" days...
Not only will they be able to benefit from going on tour together after another joint album release, but Blue Ivy and North West will FINALLY be able to play together.
I think we all refuse to live in a world where Blue and North aren't friends...
Am I right?!
Citations: Jay Z Says He 'Misses The Old Kanye' Following West's Recent Rant (Yahoo!)