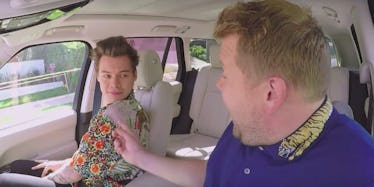 Harry Styles Channels Rose From 'Titanic' In Hilarious 'Carpool Karaoke' -- VIDEO
YouTube
Harry Styles has been dominating The Late Late Show With James Corden this week, and we've finally got what we've been waiting for: A SOLO Harry Styles Carpool Karaoke.
The duo belted out some of Harry's hits, including "Sign of the Times" and "Sweet Creature." They also got down to some "Hey Ya!" by OutKast, which brought me right back to 2003.
And can't forget Lionel Richie's "Endless Love," which (fun fact) will actually be my wedding song. After hearing this, I'm contemplating switching out my Luther Vandross and Mariah Carey version for the Harry version, though.
The funniest part of the entire car ride had to be when Styles and James Corden played the leads in some well-known romance movies. Styles put on a perfect Julia Roberts impression for their Notting Hill scene, complete with a fake American accent.
Then came Titanic. The two recreated the famous scene with Jack and Rose at the front of the boat... well, they recreated as best they could while sitting in the front seats of a Range Rover.
Then Styles slaayyyeeedd it as Rose, telling Corden (Jack Dawson),
Jack, I want you to draw me like one of your French girls.
SO. CUTE.
This isn't the first time we've seen Styles on Carpool Karaoke with James Corden. He sat in the back, middle seat while he drove around with Corden and the rest of One Direction back in December 2015.
Fans couldn't help but get emotional seeing him back in Corden's car.
The skit even caught the attention of Justin Bieber.
Bieber Instagrammed an adorable picture of Styles. The caption reads,
Just watched Harry styles carpool karaoke!! Hilarious! Also congrats on the album, it sounds great !
Styles dropped his first solo album earlier this month.
He also announced he'll be going on tour in the fall. His first show is at Radio City Music Hall in New York City on Sept. 28, 2017.
Citations: Harry Styles Was On Carpool Karaoke And Absolutely Nailed It (BuzzFeed)