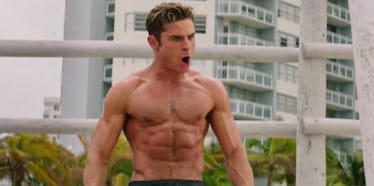 New 'Baywatch' Trailer Proves Zac Efron's Abs Deserve Their Own Movie
YouTube
All I want for breakfast is two scrambled eggs, crisp strips of bacon and a side of Zac Efron's glorious, rock-hard abs.
There's no other way I'd rather start my day than drenching those babies in oil and sticking them right into my mouth. Good morning, sunshine! Come to mamaaaaaa.
Perhaps I took that visual a little too far, but you may as well go with it.
There's a new "Baywatch" trailer starring Zac Efron's abs, so you're about to see a lot of stimulating visuals.
LIKE THIS! BAM! ARE YOU DEAD YET?!
OR THIS! BAM! STILL ALIVE?!
MY HEART HAS STOPPED BEATING. ZAC EFRON'S PERKY NIPPLES AND SCULPTED V-LINE HAVE KILLED ME.
RIP me, everyone come for my funeral.
I actually had to watch the new "Baywatch" trailer multiple times because it took a while for me to look at anything but Zac Efron's glistening bod.
In the movie, our sex god teams up with The Rock to go on an epic adventure filled with hot girls, jet skis and near-death experiences.
The gorgeous Priyanka Chopra's character makes an appearance as well, so it's definitely an action-packed preview.
As previously reported by Elite Daily, Dwayne "The Rock" Johnson apparently helped Zac Efron bulk up for his part.
Ten months ago, Zac shared a jacked shirtless pic of himself on set for the film, and fans went crazy.
Everyone wants a piece of Z-A-C. MARRY ME, BABY. BRUSH MY HAIR AND MAKE LOVE TO ME ON THE SOFA.
Here are some more shirtless pics of him for you thirsty animals. Haha, you guys are creeps.
But really, can we talk about those pecs?
Unfortunately, you'll have to wait until May to see "Baywatch" in theaters, but you can check out the new trailer in the video above.
See you then, Zac. ;)
Citations: 'Baywatch' Trailer (Cosmopolitan)