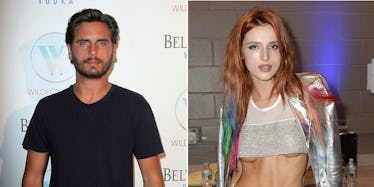 Bella Thorne Admits She's Crushing On Someone And It's Not Scott Disick
John Parra/Getty Images for Wildfox and Gustavo Caballero/Getty Images for iHeart
You're hearing it straight from the celebrity's mouth, America. For the last time, Bella Thorne and Scott Disick are not together. In an exclusive interview with Entertainment Tonight, the 19-year-old actress let us in on who she is (and is NOT) crushing on.
After a whirlwind "friendship" (I guess?!), Thorne is putting rumors she is romantically involved with Disick to bed. Again. For the millionth time. At an iGo.Live event in Los Angeles on July 26, Thorne told ET's Lauren Zima she is crushing on somebody, but no, it isn't Scott.
She said,
I have my eye on something [someone]. You guys, I'm sure you'll figure it out soon enough.
When Zima asked her point-blank if she was referring to the father-of-three and reality TV star, Thorne replied with, "Oh goodness. No, it's not Scott Disick."
Zima pushed further asking, "Can you clear it up once and for all? What is that relationship?" To which Thorne replied,
I can't. You're really getting into it, and I have absolutely nothing to say. We're friends, deal with it. People can be friends. It's a thing. It actually happens. So, get over it guys. Seriously.
Bella, you can't blame us for ASKING. You guys kind of have been running all over town, holding hands, and wearing bathing suits as shirts to dinners and night clubs. That looks like a wild celebrity romance from where I'm standing.
Disick and Thorne were first linked together around the Cannes Festival, which was the same time Disick's ex and baby mama Kourtney Kardashian started stepping out with her new BF, Younes Bendjima.
Plus, earlier this month, Thorne shut down the Disick rumors once again on ET's Facebook Live saying,
We're chillin', we're friends, we're cool. I literally just saw him, so it's literally all chill.
Well then, sounds chill. In the meantime, our eyes are peeled to see who Bella is actually crushing on now.