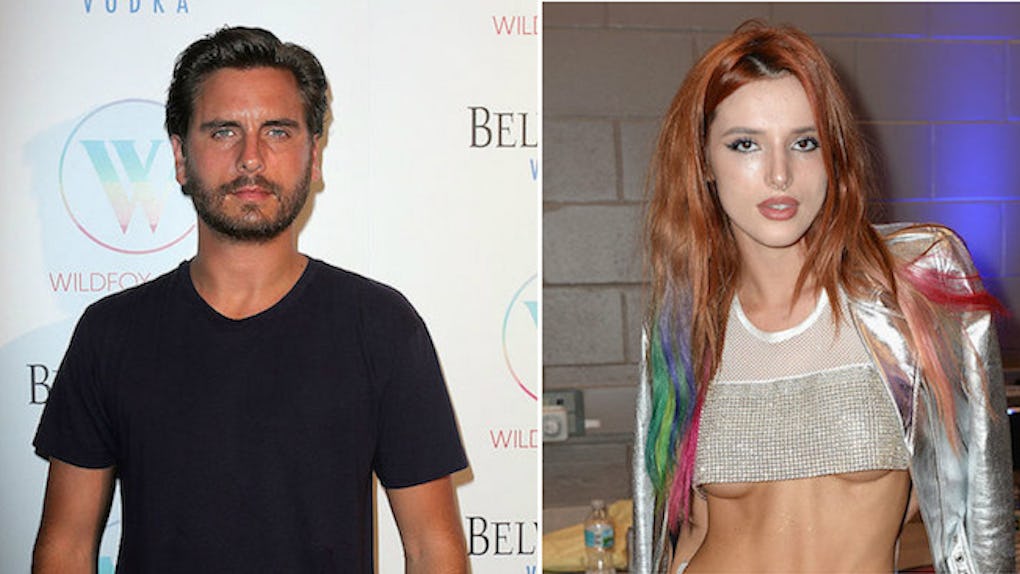 John Parra/Getty Images for Wildfox and Gustavo Caballero/Getty Images for iHeart
Bella Thorne's Purple Bikini Top On Scott Disick Date Reminds Us They're Still Together
Just a reminder that Scott Disick and Bella Thorne are still weirdly obsessed with each other.
Despite Bella insisting they have never done anything sexual, the duo can't seem to stay away from one another ever since they first united at the Cannes Festival.
It appears Disick's fling with the 19-year-old actress isn't exactly dying. In fact, they recently went on another date in which Bella felt so comfortable with the reality TV star, she wore a bikini top in place of a shirt.
Right. Same.
She paired the lavender bikini with red sunglasses, rainbow wide-leg jeans, bangle bracelets, and, I don't know, attitude?
Apparently, this was the second date night Disick and Thorne shared in New York City, dining at the Vandal Restaurant in downtown Manhattan. They then took a train?, taxi?, private jet?, to the Up and Down nightclub around 1 a.m.
Classic B-Scotti, as I like to call them.
Allegedly, earlier this week they were spotted at Catch, another NYC restaurant, celebrating Steve Aoki's latest album. A source told Us Weekly, "They were hugging a lot. They were very lovey-dovey."
Right, I'm sure that's the word they subscribe to. "Lovey-dovey."
Thorne had previously told SiruisXMradio,
I'm very friendly with Kylie and Kendall … as far as I know we're [super] chill. I didn't have any problem with them. It's really unfortunate that there's always somebody that people kind of pick on. In shows and series, there's always that character that people beat up on a little bit. And I feel like, a little bit, that's him on the show. At least in the episode I saw.
However, she also told Complex that she couldn't keep up with Disick's party lifestyle.
Scott is really nice, sweet, charming. I don't drink, and he really drinks a lot. And it just ended up… I just wasn't down. I was like, 'I gotta leave.' We were [at Cannes] a day and a half before I was like I'm booking my flight and leaving.
Well, which is it, Bella?!
Just friends and no bikini date night outfits, or more than friends and mad side boob?!
IT CAN'T BE BOTH! THE FANS WON'T HAVE IT!