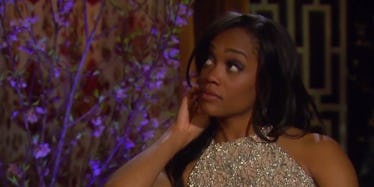 9 Reasons "Men Tell All" Will Be The Most Dramatic 'Bachelorette' Episode So Far
ABC
Every season of The Bachelorette promises to be the most dramatic yet. TBH, Rachel Lindsay and the producers have not let me down. This season has my two favorite things: hot guys and lots of drama. I'm a woman of simple, yet elegant, taste.
Some people look at "Men Tell All" as a season break, but not me. Everyone gets wild and tries to expose the sins of their fellow cast members. You can't script that sh*t.
Episode seven airs on July 10. Then, hometown dates and overnights will follow. This means "Men Tell All" will likely air July 31.
Season 13's "Men Tell All" is seriously going to be the most dramatic yet. *Said in Chris Harrison voice* Below are nine reasons to get hype for the upcoming episode.
1. DeMario Will Reportedly Be Back
Variety reported that a source close to The Bachelorette says DeMario will indeed return for "Men Tell All." With all the drama surrounding Bachelor in Paradise, I'm glad DeMario will reportedly still attend.
The conversation in the media has been surrounding him and Corinne, but I'm ready to revisit the drama of the season. DeMario had an unpleasant surprise when a supposed ex-maybe-current-girlfriend came and exposed him. It was so wild when this chick came on with text messages as proof.
DeMario returned to the mansion in the hopes of getting back on the show, but Rachel was having none of it. I'm sure "Men Tell All" will be one of DeMario's stops in an effort to clear his name.
2. Jack Stone Will Head Tilt
Will Jack Stone tilt his head in a weird, serial killer way? Yeah, probably. After watching himself, is he embarrassed? I'm guessing, no. Jack Stone had the most cringeworthy one-on-one date with Rachel.
We all squirmed at home watching Jack Stone creepily smile and tilt his head at Rachel. We couldn't really blame her for sending him home.
3. We Will Finally Find Out If Blake Watched Whaboom Sleep
Whaboom told Rachel that Blake was obsessed with him and would eat bananas while watching him sleep. Blake doesn't eat carbs, but that doesn't mean this story isn't true.
They will probably give Whaboom a few minutes in the sun to make us scratch our heads in confusion.
4. Adam Jr. Will Be There
We know for sure Adam Jr. will be in attendance, but where? He's been spotted in various places during the season, but will the producers give him his own moment in the hot seat?
Adam Jr. has been the most reliable and iconic face of the season. Who knows what secrets he'll divulge during "Men Tell All."
5. Will Fred Get Another Chance?
Fred deserves closure. He was so great, but Rachel couldn't get over their past as childhood acquaintances. I hope she offers him a little more explanation as to why she wasn't into it. OK, maybe asking permission to kiss her was a bit childish, but maybe he was nervous. #JusticeForFred
6. Lee Will Bother Everyone
Lee is a low-grade version of Chad. Not as cute (or tall), and tries way too hard. Chad created the most epic "Men Tell All" when he insulted everyone (including JoJo), and I have a feeling Lee will be looking to do the same.
Fortunately, I think America has had its fill of Lee, and hopefully the producers stick him in the back in a place where he won't be able to see over Anthony's head. BURN.
7. Josiah Will Say He's The Best
Ugh, this is disappointing. Josiah started out as a very strong contender. He has a horrific backstory that I thought would make him humble and sweet. He ended up coming off as, um... confident, though.
Most of Josiah's interview time was spent telling America how he is the strongest, smartest, fastest, and most down to Earth contestant of all time. It explains why he was so shocked when Rachel sent him packing. He will probably spend his time during "Men Tell All" explaining why Rachel made a huge mistake. *Eye roll.*
8. Iggy Will Expose Everyone
JK, he tried that tactic and it didn't work. Iggy wasted all his one-on-one time with Rachel talking about the other contestants. I have a feeling Iggy will try to blow the lid right off this season. You know what? No one will care.
9. Will We Meet Kenny's Daughter?
This is my highest hope. I want to meet Kenny's daughter on "Men Tell All." Maybe she'll meet Rachel and they will bond, resulting in a cuteness overload.
One thing is for sure: this season's "Men Tell All" will be one for the books.