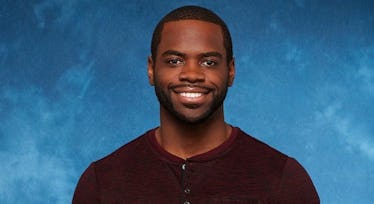 'Bachelorette' Contestant Josiah Has The Most Depressing Backstory Ever
ABC
I think that we officially have the most depressing backstory in all of Bachelorette history, courtesy of Josiah. On Monday night, the new men let us know all about them in the premiere episode of Rachel's season of The Bachelorette, and Josiah's backstory was particularly heartbreaking.
After telling us that he's a prosecutor, Josiah opened up about his older brother that was bullied for being overweight. When he was just 7 years old, Josiah found his brother, Sam, hanging from a tree after committing suicide, and had to cut him down from the tree himself. Yeah... intense.
After that, Josiah turned to a life a crime, feeling a void in his life. After being arrested, he turned over a new leaf and began working for the correctional forces that incarcerated him as a prosecutor.
Now, Josiah seems like a top contender to win Rachel's heart. It seemed like he scored major points with Rachel by leaning into their shared legal profession, making some cutesy puns that made Rachel giggle.
I'm convinced by the end of our time together, you will have no reasonable doubt... See ya later, litigator.
And family is clearly a huge part of Josiah's life, scrolling through his Instagram reveals that his nephew and his job are two of the biggest parts of his life.
Amid all the goofiness from the guys in the first episode, it already feels like Josiah is already one of the frontrunners to win this season: he's sweet, down-to-earth, and already has a common interest and profession with Rachel. I'm definitely putting my money on him to take it all the way.
Of course, we'll have to wait and see how Rachel reacts to the tragic parts of his past in the upcoming season. Will it be too much for her or bring them closer? Let's wait and see how their relationship unfolds!