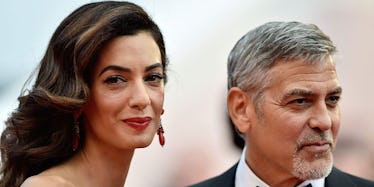 Amal And George Clooney's Son Shares One Feature With His Dad And It's The Cutest
Pascal Le Segretain/Getty Image
Amal and George Clooney welcomed their twins into the world on Tuesday, June 6.
In a statement to E! News, a rep for the couple confirmed,
This morning Amal and George welcomed Ella and Alexander Clooney into their lives … Ella, Alexander and Amal are all healthy, happy and doing fine. George is sedated and should recover in a few days.
Of course, the entire internet exploded with joy -- and some humor -- at the wonderful news (actually not the entire internet, but you get the point).
We've already analyzed the twins' trendy names and deemed them perfect. Now we just need to know what Ella and Alexander look like.
There are no photos yet, but Nick Clooney, George's dad, gave us one small detail after FaceTiming with the new family of four shortly after the birth.
Speaking with a local Cincinnati TV station, the 83-year-old grandfather revealed,
They are gorgeous. Nina [Warren] swears they have George's nose. Not both of them, one of them. The little boy looked like he had [George's] nose. His little profile.
Awwwww!
This world seriously needs a mini George Clooney walking around -- and here's hoping Ella looks just like her mom.
The grandfather also took the chance to poke a little fun at his son, saying,
Both George and Amal are doing wonderfully well... George, well, his eyes were glazed so I'm not sure that he was sober.
While Amal's mom, Baria, was reportedly there for the birth, which took place in London, George's parents are waiting patiently to meet their newest grandchildren. Nick Clooney said,
They have enough on their plate to have some visiting grandparents coming in to London. So we'll leave that one entirely up to them.
George, Amal, Ella, and Alexander are reportedly planning to live in their home in London for the foreseeable future.