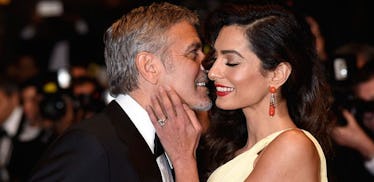 People Are Pissed Amal And George Clooney's Twins Are Being Considered "News"
Clemens Bilan/Getty Images
George and Amal Clooney are parents!!! Yes, the human rights lawyer gave birth to twins Ella and Alexander on Tuesday, according to AP.
A representative of the Clooney family said in a statement to E! News,
This morning Amal and George welcomed Ella and Alexander Clooney into their lives… Ella, Alexander and Amal are all healthy, happy and doing fine. George is sedated and should recover in a few days.
AHHHH!!! Cute little baby nuggets!! What a time to be alive.
Now, George and Amal are a widely-loved couple, but people aren't very pleased that this story is being treated as "news" by outlets such as AP.
YO, FAM, CAN WE, LIKE, BE HAPPY ABOUT HAPPY NEWS?! These twins haven't even been in the world for one entire day and you're already raining on their parade.
I get why people wouldn't see this as breaking news. Truly, I do. But let's not pretend the climate of the world isn't a stressful and terrifying one and the news of two happy, healthy babies being welcomed by their loving parents isn't a nice thing to see in our news feeds.
Nevertheless, people are angry the breaking news notifications they have set on their phones are being used to announce the birth of a celebrity couple's twins, instead of the more serious news they're expecting.
Given the recent terror attacks in London, it is fair to expect that the breaking news feature is only used for hard news stories. But is there really a need to tweet in all caps about it? Save your energy, fam.
Was the use of the "breaking news" feature absolutely necessary? No. But was it harmful? Not in the slightest.
At the end of the day, let's just be happy for George and Amal Clooney and wish them and their newborns, Ella and Alexander, a happy and healthy life together.