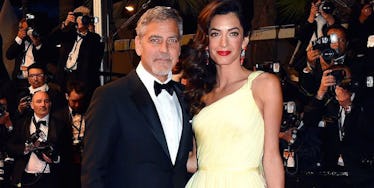 Amal And George Clooney Gave Their Twins Two Of The Trendiest Names
REX/Shutterstock
Amal and George Clooney are officially parents!
Amal gave birth to their twins this morning and the couple named them Ella and Alexander, E! News reports.
In a statement, a rep for the couple said,
This morning Amal and George welcomed Ella and Alexander Clooney into their lives … Ella, Alexander and Amal are all healthy, happy and doing fine. George is sedated and should recover in a few days.
Ahhh! This is such happy news!
Now let's analyze the names, shall we?
Ella means "light," so that sounds like a pretty solid choice to me. The name can also mean "beautiful fairy woman" in English.
Alexander is Greek and means "defender of men." So that's also a very strong name.
The power couple are trendsetters themselves, so whatever they chose to name their son and daughter would have inevitably skyrocketed to the top of the baby name list.
However, they actually went with two of the top names of 2017.
Ella falls at number 12 on the list of top girl names for this year, and Alexander falls at number 16 on the list of popular boys' names.
It definitely sounds like Amal had a lot to do with the names, considering George revealed a few months ago his wife quickly shot down his idea to name them after his tequila company.
He joked,
My wife says I can't name them Casa and Amigos. That's the one thing I'm not allowed to do … It was just a thought. I mean, you know, it's a family business.
I think your kids will thank you one day for that one, Amal. Then again, it would have made them pretty popular in college I'm sure.
Ever since the birth announcement back in February -- and, honestly, even before that -- we've been eagerly waiting to see the 56-year-old Oscar winner and 39-year-old human rights lawyer become parents.
They both have opened up about this big change in their lives and their excitement to start a family together after almost three years of marriage.
In February, George said,
It's going to change a lot of things, but that's OK. That's life.
I think I speak for most of the internet when I say we can't wait to see you embrace these two big changes in your life. (We also can't wait to see photos of Ella and Alexander, but we'll try to be patient.)
Congratulations, George and Amal!
Citations: E! News