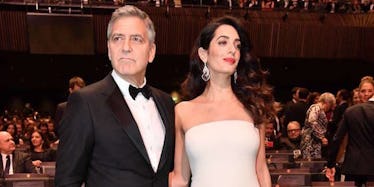 George Clooney Already Had These Two Baby Names Shot Down By Amal
REX/Shutterstock
Apparently, there is something George Clooney sucks at: naming kids. The actor is expecting twins with his wife Amal Clooney, and it sounds like they haven't yet settled on names... mostly because George's suggestion is just flat-out dumb.
Clooney revealed his choices for baby names to Entertainment Tonight on Tuesday night, but don't get too excited because he said Amal has already shut his ideas down.
And I don't blame her, because he wanted to name his kids after his tequila company!
That's right — apparently George Clooney's best idea at coming up with names for his children was to just take a glance at his bar. He said he wanted to name the twins Casa and Amigos, a breakdown of the name of his tequila brand, Casamigos.
My wife says I can't name them Casa and Amigos. That's the one thing I'm not allowed to do... It was just a thought. I mean, you know, it's a family business.
So George wanted to name his children the Spanish words for "home" and "friends..." even though they'd have no Spanish blood in them at all? And did he think they'd just be totally cool with it when they realized their dad named them to basically be walking advertisements for his tequila company? C'mon George, get it together!
Thankfully, it sounds like Amal is going to be the voice of reason when coming up with names for their children, so hopefully we won't be getting another Apple or North situation when the twins are born in a few months. Reportedly, Amal is due to give birth in June to one boy and one girl.
I think George and Amal should sit down with Beyoncé and Jay Z and have a group brainstorming session for baby names, since both superstar couples are expecting twins.
And since they named their first child Blue Ivy, I'm sure Bey and Jay won't find George's strange name ideas all that ridiculous.
Citations: EXCLUSIVE: George Clooney Reveals Which Baby Names Amal Has Already Shot Down (Entertainment Tonight)