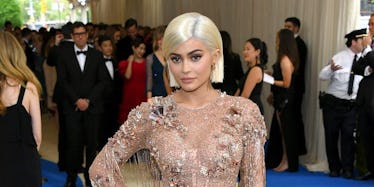 5 Things People Want Kylie Jenner To Address On Her Show That She Probably Won't
Getty Images
Kylie Jenner finally released the full trailer for her new docu-series, Life of Kylie, and she is totally building up her fans' suspense.
The reality TV star and beauty product mogul dances around it, but she basically says her docu-series will finally show the world the difference between her public image and who she really is.
She says during the trailer,
"There's two sides of me. There's an image that I feel constantly pressured to keep up with and who I really am around my friends."
Watch the full trailer here:
OK, so the suspense isn't exactly killing me. It's more like... pinching me slightly.
I can admit that the KarJenner clan keeps me curious. I'm not so much into who they're dating, what they're wearing and what they're arguing about on KUWTK, but their place and influence in pop culture is undeniable.
That said, there are a few things about Ms. Kylie specifically that the world is still curious about. We might as well get them off our chest now, because there's a good chance the show will not touch on any serious subjects or controversies, similarly to how things are glossed over in KUWTK.
Here's what the world would love to know more about Kylie that we should just get over because she'll probably never address them anyway:
1. Is "culture appropriation" a topic in this family?
No, seriously. It's interesting that the topic of culture appropriation has been incredibly popular for the last few years (with the Kardashians and Jenners often at the center), but I've never heard any of the sisters utter the word. I wonder if they ever discuss the backlash they receive for it in private or with their real friends.
I wouldn't expect them to actually admit to anything other than "appreciating the culture," but if they ever did decide to address the topic in anyway, that is one episode I would certainly be watching.
Kylie Jenner was directly called out for appropriating black culture by Amandla Stenberg and she offered a pretty flippant response about Stenberg needing to "go hang w Jaden [Smith]."
It wasn't the best she could have delivered, but I understand it. Jenner was and is young. It was a brief Instagram exchange and she doesn't know Stenberg all that well anyway. Now that Jenner is a bit older and seemingly more mature than she was then, I'd be all ears if she was really ready to talk about her and her family's culture vulture proclivities.
But I won't hold my breath.
2. So about Tyga...?
Kylie and Tyga possibly getting back together is a moot detail, but my ears are itching to hear Jenner say even one thing about that still-sketchy dating timeline of theirs.
Were they really dating when she was 16? If so, ew. Did Tyga really leave Blac Chyna, the woman he has a kid with, for ANOTHER kid? If so, ew, again.
There have been plenty of rumors accepted as fact, but I'd love to hear from Jenner's own mouth— even if she delivers some throwaway comment about people needing to chillax about relationships with age gaps.
What she says about how the Kyga relationship began means quite a bit. It says a lot about what her family is willing to condone in plain sight.
3. What's up with that stolen lip kit art design?
Ah yes, in case you didn't hear about this, Kylie Jenner has been accused of stealing the imagery for Kylie Cosmetics from the makeup artist, Vlada Haggerty.
Kylie shared this photo to promote her new lip kits, which was originally posted on Haggerty's page:
She called Kylie Jenner out and the reality star quickly added "inspo by @vladamua." But then she deleted the photo entirely. But Jenner wasn't done sharing branding photos similar to Haggerty's.
Haggerty posted these two photos side by side, showing yet another post of Kylie's, which has since been deleted.
The conversation about lesser-known artists having their work stolen by celebrities has been swirling about lately. Artist, Gelila Mesfin, called out Chicago artist, Chris Devin, for raising money to recreate her Egyptian Michelle Obama mural, as reported by Salon. Even Beyoncé has been accused of stealing everything from choreography to songwriting credit.
It's safe to say these artists are sensitive about their shit, and it would be some seriously great TV if Kylie Jenner used her platform to own up to any of hers. Like, did she know? What was her real reaction when she discovered that whoever she hired to handle the Kylie Cosmetics logo art was an Instagram klepto?
Tell us something, Kylie. Clear it all up.
4. Does she think she's been hyper-sexualized?
I will never forget how gross people were as soon as Kylie Jenner turned 18-years old. She was approached about sex tapes just a day after she became legal. TF?
And the ghost behind the Pornhub Twitter account has also publicly tweeted sexual innuendos at her, as reported by Cosmopolitan.
Kylie's sexuality is hers, not the world's. I'm interested to know how Kylie felt about those things as a young woman who has every right to explore her sexuality without being treated like a piece of meat.
5. And lastly, how hands-on is Kris Jenner exactly?
It's long been rumored that Kris's momager duties are a little more hands-on and way more calculated than they should be with all of her daughters' careers. She was even accused of leaking Kim Kardashian's infamous sex tape and there's an entire book dedicated to the conspiracy theory.
So the people are definitely curious about just how involved Kris Jenner is with Kylie's booming brand. Unfortunately, if she is under her mother's thumb, then we'll never get anything entirely truthful about that.
But it's hard for me to believe that Jenner's star power is only due to her status as mommy's youngest girl.
Even Kim admits that Kylie is the most popular of the Kardashian-Jenner family. And she is already the most "liked" one on Instagram.
This show is Kylie's chance to really break out and show the world how much of a girl boss she really is and who she is as an individual.
No doubt, the Kardashian and Jenner family can be problematic as hell, but I'll always be a fan of women and girls using their voices to tell their own stories.
Life of Kylie premieres on July 6 at 10 pm, and Kylie is already in her trailer saying it's "like a therapy session."
Let's see what she really has to say.