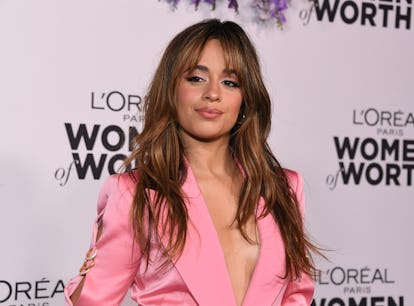 Camila Cabello Appeared To Reference *That* Coachella Moment In A New Song
It must be love on the brain.
Jon Kopaloff/Getty Images Entertainment/Getty Images
The Coachella desert might have just sparked an old romance — and new music. During weekend one of the festival, exes Camila Cabello and Shawn Mendes were spotted hugging and kissing while enjoying a few shows. Their sudden PDA convinced fans they were dating again, and it seems Cabello is processing her feelings about the reunion in a new song.
On Apr. 19, the "Bam Bam" singer teased a snippet of the unreleased track on Instagram. Titled "June Gloom," the nearly two-minute release sees Cabello not-so-subtly nodding at rekindling with an old flame. "How come you're just so much better? / Is this gonna end ever? / I guess I'll f*ck around and find out / Are you coming to Coachella? / If you don't, it's whatever / If you do, honey, it'll be all I think about," she croons, her voice awash in a robotic effect.
Cabello also captioned the post "4.12" alongside a flower emoji. She didn't emphasize what the date stood for, however, the lyrical musing hints this track was produced recently.
Naturally, fans in the comments section of the post raved over the Coachella reference. Some users even proudly wielded their Shawmila stan card and hoped this release would inspire the singers to give love another shot. The "Señorita" duo first began dating in July 2019, though they'd been close friends since they were teenagers. Two years later, the couple announced their breakup on Instagram in November 2021.
At the time, the couple didn't reveal the cause of their split and vowed to continue supporting one another as friends. However, four months later, Cabello hinted there was a sudden shift in their life priorities. "I think as I get older, the priorities shift. And I feel like that was that way for both of us," she told Apple Music 1's Zane Lowe in March 2022. "Because we both started so young too, we're really learning how to be healthy adults."
So, are Cabello and Mendes back together? The clues are a bit hazy. The same night Cabello shared her unreleased song, journalist Jessica Rendell posted a video of what appears to be the former couple walking hand-in-hand in Los Angeles on her Instagram Stories.
Rendell told Harpers Bazaar Australia she saw the pair on Santa Monica Boulevard and they seemed very affectionate. "They were holding hands pretty tightly and seemed very snug and in love," she said. "They were deep in conversation about something so I didn't want to stop them and ask for a photo."
Though those romance rumors continue to escalate, neither Cabello or Mendes have addressed their relationship.