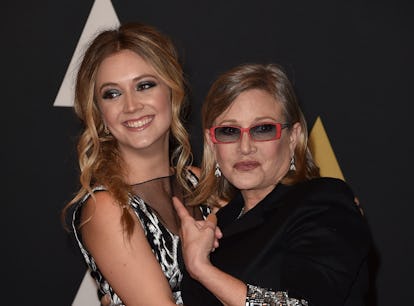 Billie Lourd Addressed The Drama Over Her Mom's Walk Of Fame Ceremony
"Their actions were very hurtful to me at the most difficult time in my life."
Kevin Winter/Getty Images Entertainment/Getty Images
Nearly seven years after her death, Carrie Fisher is receiving a star on the Hollywood Walk of Fame on May 4. This honor is a sweet moment for the Star Wars actor's legacy; however, it's been overshadowed by claims from her siblings that they weren't invited to the celebration. After days of accusations, Fisher's daughter Billie Lourd confirmed her decision to exclude them from the ceremony, and the reason speaks to years of private family drama.
On May 3, Lourd issued a statement to The Hollywood Reporter stating her mother's siblings — Todd, Joely, and Tricia Fisher — "know why" they weren't invited. She firstly apologized for publicly addressing her relative's claims, as the actor has always been private about her personal life. However, she noted she felt "the need to defend" herself from the image they were painting of her in the press.
Lourd then set the record straight as to why she held their invitation to the ceremony. "Days after my mom died, her brother and her sister chose to process their grief publicly and capitalize on my mother's death, by doing multiple interviews and selling individual books for a lot of money," she said, adding the siblings also exploited the death of her grandmother, Debbie Reynolds, for their personal gain.
In December 2016, Carrie died after suffering a heart attack while on a flight to Los Angeles. That same month, Reynolds died following a stroke. Shortly after their sudden deaths, Joely and Todd released their own individual memoirs (2017's Growing Up Fisher and 2018's My Girls: A Lifetime with Carrie and Debbie), which Lourd shared in the statement didn't sit right with her.
"I found out they had done this through the press. They never consulted me or considered how this would affect our relationship. The truth of my mom's very complicated relationship with her family is only known by me and those who were actually close to her," she said. "Though I recognize they have every right to do whatever they choose, their actions were very hurtful to me at the most difficult time in my life. I chose to and still choose to deal with her loss in a much different way."
Though a private person, Lourd has grieved her late mother and grandmother by penning tributes to them on Instagram. These sweet markings normally come on their respective birthdays and anniversaries of their death, and she's extended that homage to her own family tree. In Sept. 2020, the American Horror Story star revealed she somewhat named her son, Kingston Fisher Lourd Rydell, after her mom. Then, in March 2022, Lourd's wedding with husband Austen Rydell — whom she shares with Kingston — included several endearing details inspired by Carrie.
In her statement, Lourd noted the siblings' public antics further cemented her decision to not invite them to the ceremony. On May 2, Todd reportedly told TMZ he was "shocked" that wasn't allowed to attend the Walk of Fame. The following day, Joely and Tricia released a joint statement on Joely's Instagram confirming they were also not invited.
"In response to all of you asking whether or not we will be part of the celebration… Strangely we won't be in attendance to celebrate our sister, whom we adored," Joely wrote in the post. "For some bizarre, misguided reason our niece has chosen not to include us in this epic moment in our sister's career."
Lourd closed out her statement by sharing that she and Carrie's siblings "have no relationship" and wants to refocus the attention on honoring her mother's legacy. "The people who knew and loved my mom at Disney and Lucasfilm have made this star on the Hollywood Walk of Fame to honor her legacy possible. This moment is about Carrie Fisher and all that she accomplished and what she meant to the world. I'm going to focus on that. May the 4th be with you," she said.